---

Vol 9 No 3, March 1997, Copyright © 1997 by The Crystal Club, Columbus, OH, Sarah, Editor in Chief

---
CONTENTS

Warm Reception at the First Unitarian Universalist Church , by Sarah, Editor
Cathy's Corner , by Cathy Wood, President
No Change in Meeting Location Yet , by Sarah
Leslie Feinberg to Speak in May , by Cathy Wood
Visitors From Across the Pond , by Sarah
Relay for Life , by Sarah
Blast Those Spelling Checkers! , by Sarah
Identity Cards , by Sarah
Ann Landers on Crossdressing , by Sarah
Transgender Rights Protest in Buenos Aires , by Alejandra Sarda
Pittsburgh Legislation Protects Transpeople , by Phyllis Frye
Beyond My Family , by Diana Savage
It's Trendy to be Tranny , by Sarah
My Journey by Sarah
Passing Through Dressing Rooms , by Sarah
In Search of Cranes by Melanie Cornelius
Friends , by Joan Walsh Anglund
Probability of Being "Read" as a Function of the Number of Transgendered People in a Group by Sarah
Four Pink Ribbons for Ken by Kristen
Sarah's Shopping Basket , by Sarah
Sarah's Quick Tips , by Sarah
First Flight , by Sally Oppenheimer

OTHER LINKS:

View Sarah's Pink List.
Current Announcements (updated monthly)
General Information (updated as required)
Meet some of our members!
Visit The Crystal Club homepage

Find Articles indexed by newsletter
Find Articles indexed by subject
Find Articles indexed alphabetically
Links to other newsletters, support groups, and organizations


Do you have any questions or comments? Would you like to submit an announcement or article for publication? Please email me.

Warm Reception at the First Unitarian Universalist Chuch
by Sarah, Editor in Chief
In "An Invitation to Worship" (January, 1997), I announced Jacki Herkowitz's offer to serve as a contact for those of the transgendered community to attend services at the First Unitarian Universalist Church. We would of course be welcome to attend on our own, unannounced. The Unitarian Universalists state, "Membership in this religious community is open to anyone who feels comfortable in its fellowship, is in sympathy with its purposes, and is ready to make a commitment of talents, resources, and time." Still, she thought we might be even more comfortable if we knew a specific person to contact who could introduce us around to others in the church.
On Sunday, February 23, Jannie, Cathy, Dianna, and I took Jackie up on her kind offer, and the welcome we received was extremely thoughtful and touching. We found the Unitarian Universalists to be a very thoughtful and nonjudgmental group who not only treated us with tolerance, but who also showed us their complete acceptance. Cathy and I both felt more at ease than we had ever been anywhere or anytime before. Why? I think we both pass quite well, and we have no problem in public. Even if we were read, it wouldn't really rattle either of us. Still, when we interact in public as genetic women, we usually feel a need to hide our being transgendered, and while we are both used to that, it still makes us somewhat ill at ease. At the Unitarian Universalist church, we were openly transgendered. We were 100% ourselves, and everybody accepted us for who we are.
The service itself was very nontraditional and offered something for everyone. After introductory comments, all the children gathered at the front of the church for the reading of a delightful story. My "maternal" and "paternal" sides both smiled. I love watching children! Afterwards, a pianist played Peacherine Rag by Scott Joplin. How delightful! At first, I didn't understand the significance of this piece, but it soon became obvious. The service concerned the African American community and focused on various aspects of raceism. As one would expect from the Unitarians, the selections were all very thoughtful and artistically presented. I especially enjoyed the music and was so impressed with a very precocious and virtuostic young man who played a Mozart Concerto (No. 3, 3rd Mvt.) for French horn. When he played, I just closed my eyes and let his music wash over me. Such talent!
After the service, we gathered for a Transgender Talk. The talk had been arranged on the occasion of our first open attendance in order to ease our acceptance and integration into the Unitarian Universalist community. Admittedly, most of the congregation was gathered elsewhere, socializing, but I thought the turnout for the talk was still pretty good. Meral Crane led off the discussion, followed by Cait Ball (M-to-F TS), myself, Mitch Gross (F-to-M TS), his mother, and a friend of his, Joe (also an F-to-M TS). Although we didn't go into much detail on any particular issue, we still managed to cover a lot of ground. The audience asked quite a few thoughtful questions and I believe walked away with a much better understanding of us. There were several transgendered people in the audience, including those in our party, TSs from Meral's group, an elderly member of the church who identifies herself as a female-to-male nonoperative transsexual (presenting female), and at least one other male-to-female who sat off to the side with her partner and never introduced herself.
The meeting wasn't entirely weighted down with grave, substantive issues. It turns out it was Meral's birthday, and Jennifer (one of her graduates) presented her with a plaque of appreciation for her efforts with the transgender community. Also, we were all honored by the presentation of a lovely poem to us by Melanie Cornelius, a member of the Unitarian Universalist Church, which she wrote specifically in recognition of our first attendance of her church. I rather wish she had been given the opportunity to recite it, but I suppose there was too little time. I for one am extremely touched, and I am reprinting the poem for you all in this issue. It is entitled, "In Search of Cranes". (Thanks for your thoughtfulness, Melanie! You're very sweet!)
I would like to reiterate Jackie's invitation to us to use her as a contact for attending her church. I know anyone would feel comfortable there and would enjoy being part of such a thoughtful community. If you want to contact Jackie, you can get her phone number from Luann or me.

Cathy's Corner
by Cathy Wood, President
Hi all,
Well, it's been an exciting month for transgendered people and for the Crystal Club. In the last few weeks several members have expressed concern about the direction the club is taking, namely that they are afraid that we are becoming too much of an activist group. Please rest assured that the Crystal Club is still and always will be a place to gather and just "be". We are first and foremost a support and social club and will stay that way. No one will be asked to be more "out" than she wishes to be. For the most part the club will continue as it has been. We will continue to have activities for those who are more comfortable out and about as well as our usual meetings for those who aren't ready for that.
All that being said, Sarah and I are in the process of working with several other area transgendered people with an eye towards starting a local gender activist orgainization. This is in no way a part of the Crystal Club, and members need not be concerned that it will affect the club in a negative manner. To the contrary, by being open and accessable it is possible that this organization will also serve as a further conduit to the club of area transgendereds, while serving as another barrier to the "weirdos" out there. Naturally, anyone who would like to join us in this effort is more than welcome.
We've hit the mainstream! Almost everywhere you look these days you'll find a transgendered person out and about. Ru Paul was on the inside cover of Newsweek last week as part of a two part ad for personal notebook computers. Goodwill Industries is running a tv (no pun indended) ad for donations based on a transsexual donating her male clothes to the charity! Unforunately this ad will only run in California, but hey! When we start showing up everywhere in ad campaigns, that means we are no longer considered too freaky for public consumption. Shoot, we're almost normal!
Recently the BBC wanted to run a special on Transsexuals as part of the news of two different prominant professionals declaring their intent to transition. When they tried to find a credible spokesperson against transgendered people they were unable to find one! This is a major change from just a year ago and is mostly due to the efforts of Press For Change, a british transsexual activist organization.
This month's meeting should be quite good. Sarah and I will be bringing four guests from out of town. We will also have Jennifer come and talk to us about developing a more feminine voice. You have to hear her to believe it! Her voice is the best I've every heard anywhere without surgery. We will also have a brief business meeting to discuss members concerns with the club's future and discuss what to do about future meeting places.
Sarah and I are still looking for anyone interested in joining us at Lobby Days in Washington. The event will be held the first part of May, the groundwork already having been done for us by Phyllis Frye and her group. Please contact us ASAP if you will to join us in confronting our "congresscritters". It won't be a very expensive trip, as we'll be driving as a group and sharing a room.
See you all at the meeting, ...Cathy

No Change in Meeting Location Yet
by Sarah
Our membership expanded again this February, and even more people were present at the meeting. While we all fit in the little Reynoldsburg church, it's easy to see how we'll be tripping over each other if we expand much more. Cathy has been working on finding us a new meeting location that will offer us more room, but the logistics have been staggeringly difficult. She and I put the question to the membership as to whether anybody can make suitable arrangements for another meeting location. We need to find a new meeting location by our publication date in May, as the Reynoldsburg church has already been booked by another group on our regular meeting night. We will definitely hold our March meeting at the Reynoldsburg church, with interim meetings at the West location as always. The April newsletter will confirm whether our April regular meeting will also be held in Reynoldsburg.

Leslie Feinberg to Speak in May
by Cathy Wood

Leslie Feinberg to Speak in May

Leslie Feinberg, the author of Stone Butch Blues and Transgendered Warriors, will be speaking at 7:00, May 9 (same date as our Ladies' Night Out) at the Unitarian Universalist Church on Weisheimer. Admission will be $5. For those of you not familiar with him, Leslie is a FtM TS with very strong socialist leanings. He also has written a heck of a book in Transgendered Warriors. I haven't read Stone Butch Blues yet, but I will. I hope many of you will see this as an opportunity to learn more about FtM's and will join me at his lecture. Our regularly scheduled meeting can take place afterwards or concurrent depending on how the rest of you feel.

Visitors From Across the Pond
by Sarah
Two of my British cyberfriends, Karen and SarahJane, will be visiting us this month. They will be flying into Columbus mid-morning on Saturday, March 22 and will be leaving Sunday night. I wish I could put them up at my place for the night, but I'll have the boys then. They would appreciate space on anybody's sofa or floor. If you can provide them such a space, please contact me. They will of course be attending our March meeting. I think it would be fun for a bunch of us to get together and hang out with them for the day. Perhaps we could take in some shopping at the Jefferson Outlet Mall. (I'll have to arrange sitting, but I'll do my best.) When our plans crystallize, we'll make them known through CC-online and through Luann.

Relay for Life
by Sarah
At last, we of the transgendered community have been welcomed to show our colors at a fundraiser for the American Cancer Society, the Relay for Life, July 11 and 12, 1997. I've been in touch with Glenda Overbach of the American Cancer Society concerning the issue of involvement of the transgender community in their organization, and she has suggested our participation in a fundraising event that I think will be a lot of fun. The event is called the Relay for Life. It is a big fund raising event held July 11 and 12 (Friday and Saturday) at the OSU "Horseshoe" Stadium. I suppose that will add new meaning to our "Ladies' Night Out"! There will be many many teams sponsored by businesses and community groups. Each team will pledge to keep someone circling the track at all times (taking shifts) over a 24 hour period. For those of you who worry about the implications of participating in an athletic event en femme, let me reassure you that it is not really an athletic event. Glenda tells me that most people simply walk casually around the track. While we're walking around the track with the other participants, I'm sure we'll have ample opportunity to strike up protracted conversations, which will be great for outreach. Apparently this will be a "fun" event too. There will be games, prizes, music, and events
This is not a per-mile pledge event. We will be the ones to raise the money. We can contribute money ourselves, and we can also raise it from others. We must contribute $10 per team member, with a $100 minimum for our team. How we raise the money is up to us, and we can decide how to do it later.
Will there be media coverage? Of course. Do we need to wind up on camera? Nope! First of all, it is not necessary for the terrified mediaphobe to walk the track during daylight business hours when the media will be there. Even during daylight hours, avoiding the media still isn't difficult. The track is very large, so it is very easy for our walker to loiter on the far end of the track while the media are there. Then one of us who doesn't mind being on camera could relieve her and continue on. We will have a volunteer to do that, one way or another. Those of us in the bleachers (and there should be some, just for support) will not be news worthy.
Because this is an outreach effort on our part, we need to make our presence known. We will design a T-shirt to be worn during various outreach activities in which we might participate. What will it say? Well, I think there are probably enough people who want the Crystal Club to remain a nice, safe little social oasis that the T-shirts shouldn't have any reference to the club itself. We'll just come up with some design that unifies us all and describes us as transgendered people from this area.
OK, this event isn't for the faint of heart, true, but I think there are enough of us with a high enough comfort level that we can do this event and do it well. We already have a half dozen people who have committed themselves to participate. What will we get out of it? (1) We'll chat face-to-face with hundreds of people and show them we're not freaks. (2) We'll make our presence known to hundreds of other transgendered individuals, such that they will realize they're not the only ones -- that there are at least a half dozen like them in the Columbus area. (3) We'll be contributing to a good cause, fighting one of the most common, deadly, and potentially curable diseases afflicting human kind. (4) Everybody will appreciate our participation and will gain some respect for us and our community.

Blast Those Spelling Checkers!
One of our readers was so kind as to write to us about our homepage:
Incidentally, there is an unfortunate typo on the Crystal Club's home page. There is a sentence that is SUPPOSED to read, "Members are helpful in providing a means of public expression if this is the desire of the new member." The mistake is that the word "public" actually appears as "pubic".
Let me reassure all our readers that the Crystal Club has absolutely no interest in providing its members with a means of pubic expression!

Identity Cards
by Sarah
At our February meeting, we talked about various legal questions, including the legality of alternate forms of picture identification. Mavis had what in my opinion was an excellent idea. She suggested that the Crystal Club issue identification/membership cards with both male and female names, photos, and information. You could use such an ID card in many ways: (1) to provide verification of club affiliation, thereby legitimizing you as a transperson to some extent, (2) to explain that you are not attempting to conceal her identity (a very serious transgression in the eyes of a police officer), (3) to establish an equivalence between male and female identities, reassuring a police officer as to the validity of your driver's license, (4) to impress police officers with the effort you have obviously taken to identify yourself unambiguously to them, (5) to identify yourself for purposes of writing checks, and (6) to identify yourself at airline ticket counters when traveling en femme. Many of these uses are especially important for those whose two appearances differ radically. Please note, though, that there is nothing governmentally official about any card that we issue, so you can't depend on it to get you out of a bind, but it may help. By the way, the ID cards, when slipped into a name badge sleeve, would make great name tags too. (All the male information would be hidden on the reverse side.)
It's really a very simple matter for me to make these cards for you all. I will make them by scanning your photos, printing the cards on an ink jet printer, and then laminate them. Besides the basic membership information (femme name, membership status, issue date, and membership expiration), all further information is optional. Even the photos are optional. Just provide me with whatever you want to appear on the card out of this list: any affiliations or titles, male and/or female photos (black and white or color, any size), male and/or female signatures, written cleanly on white paper with black ink (preferably felt tip), male and/or female names as you would wish them to appear, driver's license information, and your gender status (TV, CD, TG, TS, or uncommitted -- for the purpose of composing the following statement): "Jane Doe, an active member of the Crystal Club, is a male-to-female public crossdresser (or transvestite or transgenderist or transsexual or whatever term you care to use to describe yourself). Her male information is provided on the reverse side. Dressing and presenting as female is her way of expressing her psychological gender and is not an attempt to conceal her identity." For female-to-male transpeople, the gender references would simply be reversed. If this statement doesn't really fit you, please feel free to write me another one.
If you can, please either give your photos and/or information to me at the March meeting, email them to me, or snail-mail them to the club address. I'll keep all information confidential as always! I'll either mail your ID cards and photos to you with the April newsletter or bring them to the April meeting. Let me know which you prefer.

Ann Landers on Crossdressing
by Sarah
Today, March 17, Ann Landers published something about crossdressing. If you didn't catch it, go grab that paper out of the recycling bin and look it up. I can't reprint any of it here without permission, and it's too late for that.
The wife of an Ohio crossdresser had written to Landers, pointing out how common and normal crossdressers are -- that they come from all walks of life -- that they are "sensitive, courageous men who are not afraid to express the caring, nurturing side of themselves". She asked Ms. Landers to set the record straight and let her readers know they are [usually] not gay, and she expressed that it is wrong for society to ask them to give up crossdressing, as it is essential to their well-being.
Landers praised the woman for solidly rebutting a previous letter and printed quotes from 10 other readers. One reader quoted Deuteromy 22:5 (but omitted the other Deuteromy stuff about parapets around houses and cotton/poly blend shirts). Two quotes were neutral, and the remainder (70%) were very positive and accepting, including two written by wives. The most common attitude (all 70%) was, "What's the big deal?" Asked her thoughts about Michael Jordon's jewelry, she wrote, "He could wear a wedding veil and four strands of pearls like Dennis, and I wouldn't say a word." Thanks, Ms. Landers! Your thoughtfulness means a lot to the 12 million of us!

Transgender Rights Protest in Buenos Aires
by Alejandra Sarda

Transgender Rights Protest in Buenos Aires Alejandra Sarda

Editor's note: Sometimes we don't appreciate just how lucky we are. Our friend Crystal from Greece told me many chilling stories of transgender life in Athens. There, all transgendered people are considered "transsexual" and are therefore regarded as prostitutes. They are allowed to exist only in prostitution districts and usually have no place to gather except on street corners, where they must suffer the indignities of propositions from passers by. To leave such an area while dressed is grounds for arrest and imprisonment. One brave soul, a postoperative transsexual, had the courage to challenge the system. She was imprisoned, probably for life, and is beaten daily by her captors. Nobody dares speak out again.

Leslie sent me this article regarding the struggle for transgender rights in Argentina, and I was moved to tears. Transgendered people there are all "transvestites" and are systematically being harassed, imprisoned, beaten, and murdered by the police because of who they are. I find it difficult even to imagine living this sort of existence.

...Sarah




"When the Israeli Embassy and the AMIA [Israeli Mutual Help Association] were bombed, we all became Jews; when photographer Jose Luis Cabezas was murdered we all became him. In the same way, today gays, lesbians, bisexuals, heterosexuals, we are all transvestites"

...Luciana Kerner, Young Gay and Lesbians' Group

For about six hours, almost 30 transvestite, lesbian, gay and bisexual activists -joined by Laura Bonaparte, from Madres de Plaza Mayo, Linea Fundadora- laid siege on Buenos Aires Justice Palace. Two were the demonstration's main objectives: 1) To launch our anti-transphobia campaign aimed at the general public, in order to get all citizens involved in defending the right to free sex/gender choice and also to help them link the violence endured by transvestites with that suffered by those other groups that the system needs to keep under control as it can not, overtly, eliminate them (young people, women, indigenous communities, elders, poor people, etc.) and 2) To denounce systematic human rights violations committed against transvestites in Argentina and the absolute indifference/ complicity shown by the "democratic" powers (Justice system, Internal Affairs Ministry, etc.)

Both objectives were more than satisfactorily achieved. The demonstration was thrilling, moving and challenging. The Palace's main entrance was blocked by large dolls carrying the names of some of the 64 transvestites murdered by the police in the last years. A dozen LGTB activists and Laura Bonaparte chained themselves to the stairs. Almost 4,000 leaflets (the text is enclosed bellow) were distributed among passers-by. The city's most relevant media were present as was a large police "custody", that fortunately remained idle.

The public's response was highly positive: nobody was aggressive and, on the contrary, several people showed their agreement whenever corruption and police brutality were mentioned. Almost nobody rejected the leaflets and that is a very good sign: it is probable that, upon reading them, those people will start questioning if it is legitimate and humane to force every human being to choose among pink and blue once and forever, under threats of exclusion and death.

Please allow me to say that our creativity and enthusiasm played a big role in the demonstration's success. Transvestites and lesbians make the absolute majority in the crowd. The favorite slogan was: "Ms., Mr. / don't be indifferent / transvestites are being killed / right in your face", sometimes turned into "Judge, judge ...". A group of people from a shanty town called Villa 21 was also demonstrating nearby against the death of several young men in the hands of the police. Following our invitation, the group's spokeswoman took our megaphone and told the public, "We can not be indifferent to any of our people's struggles because in the face of this system that kills some of us by hunger, that kills women through abortion [illegal in Argentina], that kills young people and transvestites through the police, the only thing that can give us the victory is unity, the unity of us all".

Lately, Laura Bonaparte mentioned the outrage that the generous budget assigned to the police for killing and stealing unpunished in a country that is currently devastated by unemployment and hunger. Lohanna Berkins, from ALIT (Fight for Transvestite Identity Association) denounced that "those policemen who kills us are not the only ones to blame; it is also the legal system that does not listen to our claims, the authorities sending the police to annihilate us and society as a whole, for being silent and so issuing a license to kill"

We activists also had a chance to show our sense of humor. Lohanna and other transvestites offered the public small street pieces like the following: - You are a degenerate, you can not exist, you are corrupting society's morals and good ways, you are a threat to the family. - Hey, officer, I've got $50 for you. - Go along, don't worry Ms., keep corrupting us and have a good day.

Meanwhile, the Young Gays and Lesbians Group devised slogans like this one: "What will happen, what will happen, the day Mr. Corach [Internal Affairs Ministry, directly responsible for the police forces] dresses like his mother".

Another moving time came when the media photographers arrived. Like they are doing in every event since their co-worker Jose Luis Cabezas was murdered (almost surely by the police), they distributed leaflets with Cabezas' picture on it and the legend "Do not forget him". Transvestite, gay, lesbian and bisexual activists raised their chained arms holding the leaflets very high. The public spontaneously applauded.

We know "nothing is changed" by a single demonstration. Like Lohanna Berkins said, many of the transvestites who were there this morning will probably be arrested and beaten this very same night at different police stations. And tomorrow, without our noisy presence at the door, the judges will keep ignoring our habeas corpus and pending claims. We will keep calling the police stations where we know our friends have been arrested so those murderers paid by the system will not dare to have them "disappeared". We will keep asking for international help and solidarity. We will keep approaching Human Right organizations to make them join us in our fight, like the SERPAJ - Peace and Justice Service- and Amnesty International did, by sending representatives to today's demonstration. But this type of actions are instrumental for our long-term goal: we want every citizen to understand that transvestites are human beings too -- even if it sounds obvious to us -- that their rights are human rights and so whenever they watch how a policeman brutalizes a transvestite, they stand up to stop it.



Leaflet Distributed During The Demonstration
This might be your own story:
"Then, four of them came and took me to the patio. Another one came and grabbed me by the hair and neck, while the rest took both my legs, opened them strongly and push my tights against the floor with their knees. Meanwhile, one of them was twisting my right hands' fingers and another my arm. I shouted desperately, mostly because I was scared and furious. Then, they made me laid against the floor, hands to the back, put a straight jacket on me, beat me on the stomach, and I do not know what else happened. Among insults and threats I managed to listen several neighbors were shouting; they had came to the police station alarmed by the noise"
This is the testimony of Nadia, a transvestite rights' activist, about the facts occurred on January 11, 1997.
Democracy did not mean the end of repression and torture. Several assaults and deaths occurred since then are proof of it. Argentinean society has many dead, and a lot of pain and anger caused by impunity; all of them are ours, and we -those who disagree with this system that brings hunger and poverty, that represses, tortures and kills people- are all of them. The police is the same like in dictatorship times; it disciplines bodies, punishes and beats them -when it does not kill them- to make us remember the place we are supposed to keep. Whoever moves, get a stick; whoever changes places, gets shot.
Among those bodies and those dead people there are many who should be in our list but are disappeared because they are transvestites. At least 64 transvestites have been murdered by the police in Buenos Aires and Greater Buenos Aires during the last 10 years; none of their cases was solved up to now. Every day most transvestites are arrested, like Nadia was.

Pittsburgh Legislation Protects Transpeople
by Phyllis R. Frye

WE HAVE DONE IT! We started over 23 months ago working with our local Human Relations Commission and City Council Members, and tonight at midnight it becomes the law. The City of Pittsburgh passed legislation which amends their anti-discrimination ordinances to include TGs by defining the term "sex". This definition did not exist under the ordinance before. The definition is as follows: Sex: the gender of a person, as perceived, presumed or assumed by others, including those who are changing or have changed their gender identification.

Beyond My Family
by Diana Savage

After telling most of my family about my crossdressing, except my father, the next thing to do was to start telling my friends. The first person was my minister. This was not difficult. She is a lesbian Unitarian Universalist minister. Lets face it this is part of her life. You run a liberal church and you're going to run into people with unusual situations. The UU charter practically begs for T*s to join, "The inherent worth and dignity of every person." She was a little surprised when I showed up dress appropriately for my true gender, but recovered quickly. She said she was aware of gender issues in a general way but really hadn't ever dealt with any personally, could I point her to some web sites so she could learn a little more?
The first true friend I informed was a woman I knew in collage. I have been setting her up to tell about what was going on for three months. It was a low risk move since we have been distant for the last 4 years. Early on I made her aware that I had a "secret." I finally told her the secret in late January over lunch. Last time we had lunch was before Christmas and she started spotting the changes in my appearance right away. First that my beard was gone. Next she noticed had grown my fingernails and had polish on them. (clear) She then figured out I have both ears pierced. Honesty compels me to admit I gave her a broad hint on that one. Our lunch conversation was pretty broad. That is I wasn't doing much to hide myself. She eventually looked across the table and said, "So are you planning on changing identity?" I responded "Yes." She continued on with her conversation as if she had misunderstood. Then suddenly said, "So are you and Samantha staying together?" It turns out her husband is a CD. Very closeted but dressing regularly at home.
We talked for a long time, mainly about me and her husband. Things were fine between us. In one way she was ready. But I think I scared her. My revelations appeared to raise fears about what her husband will do. She commented she doesn't know what she would do if her husband said the same things I did. I told her that if what she told me is true she doesn't have anything to worry about. He sounded like a "classic" CD and is unlikely to want the things I do. Namely appear in public in female cloths, or talk about really being a woman.
We have met since and talked in general. We did not come back to her husband. I showed her some of my better pictures. She commented that I looked very different and probably wouldn't be recognized as Doug, especially by anyone who hadn't seen me without a beard.
In my gaming world, I came out to Kate. She was the woman who when faced with my painting my nails bright red for games and dressing for the "wedding game" treating my behavior as if it was normal. She took the news well. Only time will tell, as experience has taught me if this is true. She indicated that she had figured out that something was going on but she hadn't figured out if I was a crossdresser or a transsexual. She supplied the word crossdresser indicating she is not one of your clueless people. She wanted to know what name to use; Doug or Diana. I said until I tell the others in the game to call me Doug. We tentatively agreed to go garage shopping when spring sets in. That would be fun.
One other woman knows something is happening as well. I hadn't made any deliberate plans on telling her but she had seen some of my more subdued mixed dressing. She also knew me before, unlike any of the other people I have exposed to my mixed dressing. She is the clerk at grocery store I visit each week. She has always been friendly and I make it a point to use her checkout line when ever possible. She first saw my nails painted when I handed her my credit card. I do them every weekend. After about a month she finally commented that I took good care of my nails. I said, "Yes, I spent a couple of hours on them a week." The conversation moved on from there. The next week I showed up in pink pants and a pink sweater with hearts on it. This is not male garb. If I was upping the anti on her, it wasn't conscious. I think it had more to do with the fact I had less to worry about, I want people I know to take me seriously, not as a joke. I have been restrained at this store because of her and one other clerk. Again I didn't think about it. This time she said that she wasn't sure that she should take my credit card, the picture on it didn't look like me. I responded that perhaps she would have to start carding me for further identification. My vanity could take some carding. Again the conversation moved on. At this point I think I need to be conscious of not going any further with her at least for a couple of weeks, so as to let the mixed dress sink in without being to threatening. I wonder how she will deal with the makeup, wig and breasts?

It's Trendy to be Tranny
The transgendered community has become very visible lately in our popular culture. We of course are all aware of the countless talk shows recently dealing with various aspects of gender identity disorders. Whether these largely sensationalistic and often ill-informed programs help our community or hurt it is difficult to assess; however, if nothing else, they direct public attention to the fact that we exist. Ten years ago, we did not exist in the public eye, so it was not necessary to think about us or to deal with us.
Recently, the film industry has also helped draw attention to our community with movies such as Just Like a Woman, To Wong Foo, and The Crying Game. Although Hollywood has a long history of incorporating crossdressing themes in movies, more recent films actually depict various aspects of the transgender experience, rather than gender-bending gags. Moreover, transgendered characters have moved from positions of minor roles with no character depth to those of the protagonists. Since the viewer naturally sympathizes with the protagonist, these films have been extraordinarily good PR for the transgender community.
Even films incorporating transgender themes for gag elements are becoming more sensitive to the realities of the transgendered existence. While transpeople are often portrayed in a humorous light, as has always been the case, the "freak" element is often minimized. Moreover, transpeople are portrayed more frequently now as heroes/heroines and less frequently as villains. One case in point is the recent movie, My Fellow Americans, which by the way I highly recommend seeing! In the movie, two ex-presidents, Jack Lemon and James Garner, escape from government assassins into a parade. The spin, of course, is that the parade is a Pride march, with transgender themes most prominently represented. The two make their way into the "Over the Rainbow" marching band, in which M-to-F marchers wore "Dorothy" uniforms, complete with ruby slippers. While they are hiding from the government goons among the marchers, one marcher offers assistance. She arranges with some of her friends to escort the two exes away from the march and deliver them to their destination in Ohio. In the next scene, Lemon and Garner are riding on the backs of "hogs" in the protective company of our dear friends, the Dikes on Bikes! When they arrive at their destination, Lemon comments to Garner, "I've changed my position on homosexuals in the military. I think the armed forces could really use some of those gals!" Later on (and read no further in this paragraph if you don't want me to spoil a small aspect of the ending for you), when Lemon and Garner make their way to the White House and are about to be shot by the head government assassin goon, a sharpshooter, in defiance of orders to shoot the two intruders, turns his rifle on the head goon and kills him, saving the presidents' lives. The twist? When the sharpshooter is introduced to Lemon and Garner, he reveals that he was the girl in the "Over the Rainbow" band who had helped them out. Throughout the film, the viewer is lead from an initial reaction probably of laughing at the Pride marchers to one of laughing and smiling with transgendered people, with our community portrayed in a very positive and heroic light.
Although Hollywood provides a pretty good litmus of public perceptions, perhaps Madison Avenue provides a better one. Television commercials are designed to sell things, and it's difficult to sell anything by offending the viewer. It is interesting, therefore, that the transgender community has become the subject of occasional television commercials. Gender themes are not entirely new to advertising, of course. I remember being fascinated with a particular L'eggs commercial when I was a boy. Remember it? It showed a very sexy pair of legs, attached to someone lying on a sofa. The camera panned slowly to the right, from the calves to the thighs, to the waist, to the chest and head. To the viewer's astonishment, and to my sheer delight, the person to whom the legs belonged was none other than Joe Nameth. The announcer then said something like, "If our pantyhose can make his legs look this good, imagine what they can do for your legs." The difference between that commercial and more recent commercials is that it involved "gender bending" in the spirit of a gag.
More recently, during the Super Bowl, Holiday Inn aired a commercial about which most of you are probably aware. I only wish I had seen it. Apparently, it showed an attractive woman at a class reunion and attached "prices" (for cosmetic surgery) to various parts of her anatomy. She was drawing admiring glances from a man who eventually realized she used to be a male friend of his. The announcer then said that if several thousand dollars could achieve these results, imagine what $1 billion could do -- that at Holiday Inn, they're renovating and that we may not recognize them afterwards. It sounds like it was a really cute commercial, but it was pulled because of lots of nasty complaints from the humor impaired community immediately after its first airing. Although that tiny fraction of the American public found it so highly offensive, the vast majority of the population actually enjoyed it. Still, the commercial had only a very brief life. Too bad.
Goodwill Industries will soon release an advertisement in the San Francisco Bay area with a transsexual theme, urging people to donate old clothing. The 30 second television spot shows images of masculine hands packing away sporting gear and the like. The voice-over says, "You've packed up your beer mugs. You hung up your high tops. You no longer sit and watch games. Now you've got a ring on your left finger, designer suits in the closet, floral sheets on your bed. You're not one of the guys anymore." (The camera pans to a pair of sturdy but shapely legs in a pair of feminine high heels.) "In fact, you're not a guy anymore."
In a similar commercial for Clothes Time, a pretty young woman is seen flipping through clothes while talking on the phone and getting ready to go out. Then the viewer hears her masculine voice, and the announcer says, "If our clothes look this good on Mark, imagine what they'll do for you."
Ads with gender themes have also hit the print media -- ads for some very large, mainstream companies. Who could be more mainstream than NEC? Open up this month's issue of Newsweek, and you'll see Ru Paul in full-page glory, posing for their computer ad. What is the point of using Ru Paul for selling computers? One can easily understand why she was hired by MAC Cosmetics to tout their product line. Who better to advertise cosmetics than a gorgeous drag queen? But computers? It's apparent that Ru Paul serves as an attention grabber in the NEC ad, but what's more significant here is that the attention she grabs is positive, or else it wouldn't sell computers.
All of these ads are breaking new ground, tapping into the humor associated with some transgender issues while still casting transpeople in a positive light. While this recent flourish of gender themes is relatively new, most of the public reactions have been positive. At the very least, these ads have first passed consumer sampling tests, so it is clear that public attitudes towards transpeople are becoming reasonably positive. Times have definitely changed for the better.
Perhaps the strongest indicator of public acceptance is the fact that more public figures are openly expressing transgenderedness. Remember when Boy George was considered somewhat scandalous and was received coolly by so many people? Boy George was rather mild compared to Ru Paul, and Ru Paul has enjoyed a very positive reception. Even someone like Dennis Rodman can be "out", without hearing so much as an unkind word.
Of course Boy George, Ru Paul, and Dennis Rodman never had to do anything like run for political office. A politician could never get away with expressing her transgenderedness, right? Wrong. On March 1st, New York's Mayor Rudolph Giuliani, appeared at the "Inner Circle" dinner before 2,000 people... in drag. Guiliani was a vision in Taffeta and Crinoline (reportedly a vision from hell, but he gets big points for effort) at the $400-plate, black-tie affair where the city's journalists satirize city, state and national politics. After a monologue zapping local reporters, "Rudia" cavorted with actress Julie Andrews, star of the Broadway hit, "Victor/Victoria."
Whether through exposure or through education, public perceptions of transpeople have changed. It is for this reason that so many of us can go out in public dressed without any problem, whether we're "read" or not. Of course there will always be the rare jerk who heckles us -- the same kind of jerk who would complain to Holiday Inn -- but I think the jerks of society are beginning to recognize they are in a slim minority and are learning to hold their bigoted commentary to themselves, lest they be castigated by those around them. Fellow transpeople, this is our time!
[Thanks to Leslie, Cathy, and Alice for throwing relevant information my way for this article!]

My Journey
by Sarah
Mom and Dad are gone, and the only noises in the house are the "beep beep" of the Road Runner on television. Suddenly, without warning or apparent cause, a feeling wells up from inside, a feeling that has lain dormant all eleven years of my life. I cannot explain it, but for some reason I must do it. My soul hungers for it. I have no choice, no free will. Obedient to that stranger's inner voice, I search my house and find that for which I hunger. They await me in a box beneath Mom's bed. They are new and red, so very pretty. I put them on and gaze hypnotically at my feet transformed. My "other" side is born, and my journey begins.
What is wrong with me? Why am I excited so? This is not normal, but I am in ecstasy. Without warning, my body yields an unknown fluid. I am horrified! What I have done is wrong, and this is my punishment. Am I diseased? Could I die?
Weeks of fancy and fear, obsession and uncertainty. Surely I cannot be normal! Mom and Dad are once again gone, and my soul hungers again. Silken hose hug my skinny legs and I again gaze amazed, transformed. Again my body yields in a now familiar way. I now understand my punishment, or so I think.
School is torture. I cannot turn my eyes from the shoes on Jennifer's pretty feet. Surely others will notice my incessant gaze. Though they will surely realize I am not normal, I cannot turn my eyes. I cannot. The teacher calls my name. Huh?
Years of obsessive longing, and alas the gods smile upon me! There it is, a white bikini, the very essence of girl! I rescue it from its fate with Goodwill, slicing my finger on a jagged picture glass as I pull it hastily from the box. I suppose I deserved that. Nursing my finger, I rush to the bathroom, lock the door, and try on my treasure with frenzied excitement. I am transformed again, teenage girl with the first possession to call her own.
For many months I have enjoyed my short retreats into the bathroom where for a few brief moments I could escape the confines of my male world. Today is different. Today Mom finds my white bikini and homemade breast forms. She asks but doesn't want to know. I don't want to explain. I dispose of the evidence, trying in vain to erase the incident. I know I am doing the wrong thing, and I regret it later. The matter passes awkwardly in mutual ignorance.
It is finals week before Christmas Break. My first semester of college has been the worst experience of my life. It began with the death of my father. He died proud of the fine young man he had raised. He never knew. I go downstairs to play the old upright, my dear friend and companion. We are both in disrepair, but the music I play into her with loving hands she sings back to me sweetly in healing words. That third "high G" string has slipped again! I must re-tune it.
As I start back upstairs for my tuning hammer, I see before me a pair of white sling-back pumps atop a table. How odd! Who left them there? Didn't she notice their absence? I want to take them, but that would be wrong. With righteous resolve, I forego the opportunity. For almost a week, dozens of people come and go, yet the shoes stay. Isn't their owner going to claim them? Perhaps they remain there for a reason. Perhaps they need a home and have come to me just the same way as so many dogs and cats have done throughout my life. Perhaps they knew I would love them and care for them. My roommates have already left for break. I am alone and in despair. How long can I resist the cry of those shoes? Finally, I retrieve them and carry them upstairs to my room. They are my size exactly!
I like my sling-backs, having worn them for a few years as opportunities afforded. I have nothing else to satisfy my "other" side though. While putting out my garbage, I see a pair of Cherokee wedge sandals in a bag with various pieces of clothing -- a few skirts, a blouse, some cutoffs. They fit, as though by design!
I live in my own apartment now, and I'm tired of having contented my other self with cast-offs for so many years. She deserves better. I obtain a catalog and rough out my measurements with a steel measuring tape. How confusing! Am I a 16 or a 12, or would that be a 15 or 11? Perhaps I should just go for a 13 or 14. I guess... How should I fill out the order slip? If I use my real name, everyone at Sears is going to laugh at me. Whoever heard of a guy wearing a dress anyway? If I make up a name, the mail carrier will know I'm strange.
It's been exactly 16 days since I ordered. Why hasn't my package come yet? It's at least 6 days overdue. Should I call and check the status of the order? No, they'll laugh at me. I must be patient. As I return home from class, I see a yellow sticker on my door. It came! Oh no! It was delivered to Bruce, next door! I knock on Bruce's door and tell him, "Gee, this says some sort of package came for me." He shows me the box. It's huge. I shrug my shoulders, feigning confusion. "I didn't order anything. It must be a mistake." The next day I will tell him I received a shipment of baby clothing apparently destined for some other customer. If he were to learn the contents of the box, he would never understand. He would think I'm a freak.
In privacy at last, I tear open the box and drape myself in womanhood. I stand before my mirror in a pink shirt-dress and black sandals. Never mind the beard! I feel pretty.
I've finally gathered a small wardrobe from mail order catalogs and garage sales. My dresses, skirts and blouses hang on the right side of my closet and my pants and shirts on the left side. Most of my wardrobe actually fits too. It's such a pity I must hide it now in disgrace. My very special friend is visiting me from Singapore, and she would surely not understand. She would think I'm a freak, and she would want nothing more to do with me. I'm not gay, but she would think I am. After all, who but a gay man would wear a dress?
We have enjoyed our camping trip so much. The weather has been miserable, our whole camp perpetually rain-soaked. Still, we remain warm and dry, basking in each others' love. I know I've found the person with whom I would want to share my life, but how could she possibly love me if she knew? She would never understand. Despite my every effort to distance myself from her, we remain drawn together. She is so sweet and innocent, and she deserves better than me. She deserves a man who doesn't secretly want to dress like a woman, and I could never be that person. As much as I try to avoid the subject, we start talking about our future together -- about marriage. She simply doesn't understand. I reach deep into my heart to bring forth all of my courage, courage I could never find for another living soul. "I am a transvestite," I tell her. Now surely she realizes why we cannot marry.
Life's coincidences can be strange. Who could have believed it? She tells me she worked with transsexuals during her nursing training and found them to be very nice people, albeit somewhat vain. I'm not a transsexual though. Does she understand that? I explain to her and answer a few questions. Still she seems comfortable with the knowledge. She isn't thrilled, of course, but who would be?
Does she really understand? We discuss the matter further in our motel room. While she is in the bathroom, I put on some of her lingerie. For the first time in many years I feel like a freak, but I must show her that I am a transvestite. Mere words are insufficient. If she really understood and believed me, would she not have reconsidered marrying me? As she emerges from the bathroom, my heart pounds in my throat. She is obviously uncomfortable at the sight I present and asks me to remove the lingerie. Realizing I made my point, I comply, relieved. Still, her attitude towards me has not changed. I don't understand.
For a week now I have been utterly confused. How can she love me, a transvestite? How can she still want to marry me? Her flight is only hours away, and she thinks I am the one who doesn't want to marry her! Perhaps she's right. I do love her, but it is because I love her that I want her to have better than me. She is clearly hurt by what she sees as my rejection of her. I think she really must love me. My heart sinks at my having hurt her so, poor sweet girl. Clambering desperately for thoughts and words, I stutter, "Well, I'm convinced. We should get married." How horrid! That was my proposal of marriage! Couldn't I have done better than that? A broad smile beams my way. I suppose she understands what a dolt I can be. I have no engagement ring, of course, but I give her my college class ring to carry with her. My proposal was lame at best, but I think I'm forgiven. We have just become a couple with a future, and we are both elated. In haste we make tentative plans and then bid each other farewell at the airport, knowing we will be husband and wife in six months.
The bumps in our marriage are starting to even out at long last. Before traveling to Singapore for our wedding, I was sure to stow my feminine attire in boxes where it remains to this day, musty and wrinkled, hidden in shame. It has been difficult. I have longed more for my feminine side with each passing day. I knew the time would come that I would have to dress again, but I chose to wait until my bride was settled in her new country before introducing my other side. She and I are talking, and somehow the topic of my wardrobe surfaces. "Whatever happened to it?" she asks. I explain, and curiosity possesses her. "Let's see it," she says. I return from the attic with three boxes. She opens them and busily digs through my other life, holding up a blouse and laughing, rolling her eyes, pulling out a skirt and exclaiming, "Oh, if we alter this, I can wear it!" She asks me to try on some of the clothing. I oblige her nervously, and she laughs at me, continuing to compile a recipient list for my hard-won clothes. She pulls out a wig. "Oh my god!" She asks me to put it on and shrieks with horror when I do. "Throw it away!" she demands. Utterly humiliated, I explain to her that I want to keep my clothing and even to wear it on occasion. She is stunned. Hadn't she listened to all I had told her? Did she still think marriage would cure me? Her face sours. After a long difficult discussion, she grudgingly consents to let me exist, provided I hide from her and throw away my wig. I agree.
It's about 11:30 at night, and I am in my office working on my dissertation, clad in a fifteen inch white leather mini, spandex top, lace tights, and five inch white pumps. With my long blonde wig I just got from Frederick's, I look like a real girl now! Well, perhaps most real girls would wear a bit less jewelry. For the past several months, my wife has been allowing me time dressed while she is away to work. Recently things have changed somewhat. I have been staying dressed when she has returned home. I have told her so, and she can choose either to open the office door and talk with me or simply to go directly to bed. I hear the front door open, and seconds later, she walks through my office door. She glares at me, tells me I look like a prostitute, and goes off to bed. Perhaps the jewelry was a bit much.
How nice it is finally to be chatting with my wife while dressed! I'm a bit ill at ease, and so is she, but at least she's treating me like a person -- like her husband. I've worked somewhat on my appearance to make it more acceptable to her. I don't wear my favorite fifteen inch leather mini anymore. I wear a nineteen inch mini instead. She still insists I look like a prostitute, but at least she is so kind as to compliment me on my eye makeup.
I feel like my wife's best girlfriend. She's helped me to go shopping, and our wardrobes have really gotten extensive. She sits on the bathroom counter as I brush eyeshadow on her eyelid. There, just a hint of highlight under the brow, and she's done. I think she looks pretty cute. She likes it!
Tensions run high for a new professor. I've been working so hard I hardly have time to dress. Then again, I've lost interest in dressing somewhat. I think it's just the stress. My stress takes its toll on others too. My wife always seems angry with me, especially about my crossdressing, what little I do anymore. For years she has been threatening to tell my mother about my transvestism, and she seems more determined lately. Of course during her moments of calm, she always insists she never really meant it, so I suppose there's really nothing about which to worry.
I don't know whether I expected it to happen or not. I am holding my head in my hands in disbelief. My wife is screaming savagely at my mother, teeth bared, wild-eyed. "YOU THINK YOUR PRECIOUS SON IS SO PERFECT? DID YOU KNOW HE'S A TRANSVESTITE? HE LIKES TO DRESS UP LIKE A GIRL! WHAT DO YOU THINK OF THAT?" Her ravings continue endlessly. We are all stunned, silent. My young boys are frightened and confused. I try to get them organized to leave the apartment, but they can't manage to put on their shoes and jackets, and I'm afraid to leave my wife alone with my mother to help them. Against a backdrop of wordless screaming hatred, my mother turns to me and asks, "Is this true? Tell me it's not true." "It's true," I tell her somberly. My wife's screams become words again as she steals back our attention. "TELL HER! TELL HER YOU'RE A FREAK!" she demands. I tell the boys once again to find their jackets, but they are too stunned to hear me. "SHOW HER YOUR GIRLIE CLOTHES!" she demands. "SHOW THEM TO HER AND I'LL LEAVE YOU ALONE!" Reluctantly, my mother and I descend the stairs to the basement to appease my savage wife. "Put on your shoes and jackets, kids," I urge my boys. I show my mother some of my clothes, and my wife starts screaming at us again. She grabs my 78 year old mother by the blouse and shakes her violently, and it is all I can do to pull her away. I see the boys are finally ready to leave. I herd everyone out the back door, and we flee for safety.
Here we are in a motel room, four war-weary refugees. The boys have long since cried themselves to sleep, waking periodically in need of a hug. My mother sits in bed shaking her head still in disbelief. I had thought surely she would hate me for being a transvestite. Instead, she grieves that I have had to live such a life of secrecy and that my wife would do such a thing to me. I have certainly become the imperfect son now, but it's clear she still loves me.
We have lived for weeks now with guarded calm. My wife has made occasional threats to tell our boys what a freak I am. Although during periods of calm she claims she isn't serious, I now know better. She has all but told them many times now, but they never understood her. How could they still not know? I suppose children hear the anger more than the words. It is inevitable they will find out, and I must find out the least damaging way to introduce my "other side" to them.
Last night I found on the computer a forum for transgendered individuals like myself. I'm sure some of them can give me words of advice. I need a feminine name for use in the forum. Everyone else uses one, and I would be uncomfortable going by "Jim". After much soul-searching, I decide to adopt the name "Sarah". I have admired and respected every Sarah I have ever known, and that is the type of person I would like my feminine half to become. I post my first message in the forum, introducing myself, and I find myself welcomed by a dozen others. They all call me Sarah! How unbelievable the emotions that are unleashed! I sob uncontrollably! It is as though a girl was born within me and grew up into a 34 year-old woman without ever being dignified with recognition as a person. She lived her life locked in a dark cell, only appearing occasionally to wear some women's clothes for Jim's pleasure. That had been the sum of her existence.
Why am I doing this? Do I really need to attend a support meeting? It's amazing what people can talk me into doing. I walk down the corridor of the church to the Crystal Club meeting. Yes, judging from all the large women, I've definitely found the right place. I ask, "Can you point me to Kori, please?" Across the room, a tall woman perks up with a large, warm smile. "You must be Sarah!" she exclaims, as she walks over and hugs me tightly. She introduces me around. So many names! Throughout the evening, I meet so many lovely people, people with whom I have an unspoken bond and a common past. I'm home!
Tonight my bride is particularly hostile and will probably tell the boys in the most hurtful way possible, making sure that they understand this time. I have chatted with them about many things over the past few weeks. I have told them about my transgendered friends, about biological underpinnings of gender disorders, about societal intolerance, and about family tensions. My boys now know more about gender disorders than most adults. There's only one thing they don't know -- that I'm a transvestite. I tell them with a gentle smile, realizing underneath that my words will rob them of still more of their innocence. They hug me and tell me they love me. I am relieved for now, but I cannot help but worry about what their future holds.
All seems well with the boys. They've known now for a few weeks, and they seem pretty well settled. I guess my bride doesn't appreciate them not viewing me as the freak she says I am. I know she doesn't like my going to support meetings and finding company with others like myself. "They're to blame," she insists. "Your girlie friends are the ones who have convinced you to turn against me and who want you to be a gay transsexual!" Why won't she listen? Yes, my new friends are guilty. They are guilty of treating me like a human being, rather than a freak. They are guilty of giving me love, rather than hate. They are guilty of picking me up when I can't go on and helping me to find my direction. "I have to tell my family," she threatens now. What's the use of arguing? "OK, go ahead," I say dispassionately, hoping she will lose interest. I call her bluff, and she folds. I'm safe for now.
"ALL YOU CARE ABOUT IS DRESSING UP AND ACTING LIKE A GIRLIE WITH ALL YOUR GIRLIE FRIENDS! HOW ABOUT GETTING A REAL JOB? WHEN ARE YOU GOING TO PUT UP THE MOLDING? LOOK AT YOU! YOU'RE THE WORST HUSBAND IN THE WORLD! YOU'RE A WORTHLESS FREAK! ALL THE OTHER HUSBANDS....." The hatred drones on. Will it ever stop? I could leave the house, but where would I go? I have no friends anymore. I'm not allowed to have friends. I look down the stairwell to see the locked door to Sarah's sanctuary, the clothing storage room. My back pelted incessantly with hateful, numbing words, I slowly descend the stairs, unlock the room, walk inside, and shut out my tormentor. I smile; the muffled verbal assault continues without interruption. Did she even notice I was missing?
I sit, drained, on the cold, hard, cement floor. Most people would be thinking about how to kill themselves right now, but I'm not most people. I suppose I could open my veins with my pocket knife. Perhaps I could hang myself with that length of telephone wire in the corner. Wouldn't that be funny? She would find me hanging up neatly with all my pretty clothes! How appropriate! Nah! She probably wouldn't get the joke. She has no sense of humor.
But what reason do I have to die? Well, what reason do I have to live? There are my boys, of course. Then again, what kind of father am I? They would surely be better off without me. Whatever would I tell them? I write, "My dear John and Charles, I love you more than anything in this world, but I can't go on. You know I would never do anything to hurt you. This is really for your own good. You see, I'm really..." No. That would never do. What I want to say is.... is.... I don't really know what I want to say. How can I tell my children why they have no father? Perhaps.... Perhaps.... God! I'm so tired I can't think! Perhaps.... Perhaps I owe my boys a better letter than I'm writing right now. My head will clear by morning. I unlock the door, go upstairs, and sleep a temporary death.
It scares me to think how close I came to ending my life. I don't deserve to die, and had I stayed with my wife, I surely would have. Being apart has cleared the air between us, and I will enjoy taking my boys to dinner tonight. I walk through the door, and she announces, over the boys' protest, "They are eating here tonight." Why am I not surprised? We argue. My older boy becomes insistent on leaving with me, and his little brother follows his example. Suddenly, the kitchen is draped in noodles -- noodles on the floor, noodles hanging from the furniture, noodles on the walls and ceiling -- and my wife is screaming with hysterical fury. She storms off and returns with a tub full of toys, which she throws on the noodle mess. Why does she want to punish the boys just for wanting to visit their father? "Put on your jackets," I tell them. My wife douses my older son hatefully with water as we leave, three refugees.
Oddly enough, having had such a close brush with death, now I'm helping someone else to die -- with dignity and love -- my own mother. Deep inside, I know she must have gotten this cancer because of my crossdressing. Of course I didn't implant the tumor in her body, but it was the grief over her son's crossdressing and his suffering emotional abuse that threw her life into a spin this last year. My father's cigarettes may have planted the oncogene, but her stress over my situation let the oncogene blossom unchecked into a vicious cancer.
I have to talk with her about it. She's gone almost a year now thinking of me as a closet freak, and I don't want her to die that way. She probably only has a few weeks left, but we have to talk about it. I'll speak from the heart, but will she listen? Will she understand that while she raised "Jim" to be a gentleman of pride and worth, she unknowingly raised "Sarah" to be a lady with the same qualities? I broach the subject uneasily, and she admits to having a freakish mental image of me. I explain further and then show her a photograph. "That's just a facade. It doesn't mean anything," she protests. I reply, "Oh, but it does. The manner in which one presents one's self is a reflection of what lies inside. Part of me is a lady, and that is how she dresses." Her eyebrows rise, and a loving expression fills her face. She strokes the photograph with her fingers. "Beautiful, beautiful, beautiful," she repeats. She understands, at long last. We sit quietly, she admiring the photograph of the daughter she thought she never had and I basking in her love once more, both of us healed.
I remain separated, my life having fallen apart. Most of what I had has been taken from me, but throughout my almost unbearably turbulent life, I have gained something far more important than all I have lost. I have come to terms with myself. I know now that I am not only a gentleman of sensitivity and worth but also a lady of dignity and self-respect. Whatever my future holds and wherever my journey leads, nobody can take that away from me.

Passing Through Dressing Rooms
by Sarah
Carey and I just went on a shopping trip to the outlet stores in Jeffersonville. I even let her drive, and no, she didn't lose her keys this time! Of course she was wearing her brunette wig that day. For those of you who haven't visited the two outlet malls in Jeffersonville, they are wonderful places to shop. One could easily spend an entire day there, from rise to drop, and still not make it to all the clothing stores.
We made our trip on a Tuesday, and happily nobody seemed to be there. We were generally the only customers in each store we visited. Of course by being the only customers, we got the sales clerks' undivided attention, for better or worse. Later into the evening, we both started getting a bit tired and ragged, and although Carey, with her disgustingly slow beard growth, was still looking pretty convincing, my face was starting to get a bit rough from the surfacing beard stubble. Add to that that I chose to wear my attention-getting "Trailer Park Barbie" wig that day and that my voice was starting to get a bit rough from Carey's cigarette smoke [the editor smirking as she types], and I may not have been 100% passable face-to-face. The problem was only compounded by the fact that there were two of us together. Anyone knows that two trannies are far more easily "read" than one. Despite our high visibility and slight readability, none of the sales clerks seemed to blink an eyelash, all of them treating us very nicely.
About half a dozen times Carey and I needed to try on outfits. While neither of us feels we have the right to use a ladies' changing room, the stores were still quite empty, and our doing so would obviously cause no problem. Still, when faced with either a restroom or changing room issue, I can only think about the postoperative, legally female transsexual who found herself confronted by the police when she tried on an outfit at J. C. Penney and the postoperative, legally female transsexual in Rochester, NY, who was savagely beaten by a security guard for using the toilet in a public library. While I can certainly understand the (male-to-female) postoperative transsexual's need to live life entirely as a woman, with all associated toilet and changing room privileges, the world is a bit different for myself, a crossdresser. As a crossdresser, I do not want to "surprise" anyone, as I am very fearful of the reaction. I am not really concerned as to whether anyone knows I'm a crossdresser. I've not found people to have a problem with that. Rather, I am fearful people will misunderstand my motives should I be "caught" using a "ladies only" facility.
So as not to court trouble, legal or otherwise, I thought it best to identify myself as a crossdresser to the sales clerks and to ask their permission to use their changing rooms. The reactions were universally positive. Not only did they evidence little astonishment or concern at my revelation, and not only did they unhesitatingly offer us their changing facilities, but they also continued to be very cordial with us. They treated us just like any other women, chatting enthusiastically about the bargains we found, comparing notes on styles and fabrics, and commiserating about the most recent fashions. Admittedly, had the stores been busier, there might have been some concern about our using the changing rooms; however, the sales clerks were very reasonable people and surely would have found a way to accommodate us. Although I'm certain Carey and I could have gotten away with using all of the changing rooms without explaining ourselves first, I think the sales clerks appreciated our honesty and sensitivity, and I think that reflected well upon the whole of the transgender community. The next time they encounter a transgendered person in their store, they will remember how courteous and respectful Carey and I were, and they will treat the person all the better.
All in all, it was a pretty good shopping trip. Some of the clerks did read us, even though we both pass quite well, and I only imagine that they might have been upset had we marched recklessly into the changing rooms with complete disregard for their interests. I think we made some very good decisions and at the same time scored a few "brownie points" for the transgender community. In my opinion, it is only after the deliberate establishment of trust and understanding towards the transgender community that we will ever win any social or legal rights in this society.

In Search of Cranes
by Melanie Cornelius
[© 1997 by Melanie Cornelius; reprinted with permission]
I have left my home
in search of cranes.
Where is my home?
Of this, I no longer know.
Like them,
I follow the sunlight,
and wing my way by moon,
to no avail, for wherever
I look, I see no cranes,
winging their way toward night.
By twist of fate, my journey
leads to have been born a man.
One moment of supposed differentiation
makes you a woman -- of fate -- you say,
given ample breasts and wide hips,
for nature you say
gives your wide lips.
For me -- for me --
well formed triceps and biceps with
great physical and mental strength.
Am I doomed forever to take charge?
Am I cursed?
Must I forever take life not give it?
Why must I deny my gentleness?
How shall I conceal my intuitive nature?
Are we so different?
I want to be like you,
winging my way through the world,
in a body with breasts
and gentleness, a mind with
intuitive refreshment.
Let the air currents of wind and light,
carry me ever upward into the sun.
My feathers cause me to dance and cry,
with soft tapered hands.
I want to hold a child,
whispering to her
a gentle lullaby
in my soprano voice.
I want a tall powerful lover
offering strength and safety,
shelter in a powerful world.
Who can understand my gentleness?
Who will understand that I, too, generate life?
Who will come to succor at my breast?
Who shall take comfort at my touch?
I go now in search of cranes.
For wishing this, for wanting this,
you give me a gift--
the key to a locked ward.
Gender dysphoria--
it is I who am confused,
about my role and my gifts,
here at the waterfront.
Where are my beloved cranes?
Is it my fault,
for wanting to be gentle?
for wanting to give life?
Where are my children?
Why this economic dungeon?
You do this under threat of death--
to keep me from my cranes.
Blocking my path, tearing up
my map, so that your sense of place and self will be preserved.
You batter my body with crimson welts,
crushing the spirit within.
Did you know purple was divine?
Your church door stands
tightly closed to keep out my drafts, to keep me
from getting warm, on my journey
in search of cranes.
Please let me come in.
I will tear up my skin,
put a dagger in my side,
nails in my hands.
I will make myself one of you,
so that my true self will be made manifest.
Is that so obscene?
You will condemn me for that also and nail up
my doctors and friends.
Ah, but in dress and pearls,
when I pass you on the street,
if I have done it well,
you will tip your hat to me and assume,
that the lost child may be mine.
You will expect my emotional insight, and offer me a handkerchief for my tears,
and a caress for my hand.
You will see the gentleness,
for who I am,
all but for the label
of who you expect me to be, as I find my cranes.
My death,
these cuts
shall then be worth it.
If I cannot change you
perhaps I can change me,
to end forever
my search for cranes.

Friends
by Joan Walsh Anglund
[Sent to me by Sally Oppenheimer on St. Valentine's Day. Thanks!]
A friend is someone who likes you.
It can be a boy...
It can be a girl...
or a cat...
or a dog...
or even a white mouse.
A tree can be a different kind of friend.
It doesn't talk to you, but you know it
likes you, because it gives you apples...
or pears... or cherries...
or, sometimes, a place to swing.
A brook can be a friend in a special way.
It talks to you with splashy gurgles.
It cools your toes and lets you sit
quietly beside it when you don't feel like speaking.
The wind can be a friend too.
It sings soft songs to you at night when you are sleepy and feeling lonely.
Sometimes it calls to you to play.
It pushes you from behind as you walk
and makes the leaves dance for you wherever you go,
and that's how you know it likes you
Sometimes you don't know who are your friends.
Sometimes they are there all the time,
but you walk right past them
and don't notice that they like you in a special way.
And then you think you don't have any friends.
Then you must stop hurrying and rushing so fast...
and move very slowly,
and look around carefully,
to see someone who smiles at you
in a special way...
or a dog that wags its tail extra hard
whenever you are near...
or a tree that lets you climb it easily...
or a brook that lets you be quiet
when you want to be quiet.
Sometimes you have to find your friend.
Some people have lots and lots of friends...
and some people have quite a few friends...
but everyone...
everyone in the whole world
has at least one friend
Where did you find yours?

Probability of Being "Read" as a Function of the Number of Transgendered People in a Group
by Sarah, Ph.D.
[This has got to be about the weirdest thing I could put in this newsletter, but hey! Why not? It's a semi-academic piece, just a note really. It's rather fun to publish it, because I don't have to submit it to reviewers! I am the journal this time!]
It has long been suggested by transgendered people that when they interact in public in small groups, they are far more likely to be identified as being transgendered (or "read"). This phenomenon relates to that of "guilt by association". When one member of the group is read, the other members become suspect and are subsequently scrutinized. There are small cues to betray genetic sex even for the most convincing individuals, including overall body size, hand size, arm length, skull size and construction, gait, and posture. If anything about a person's appearance is "suspect", the observer usually makes an identification on the basis of the status of others in the party. Thus, even genetic women are frequently read as being crossdressers when in the company of male-to-female transgendered people (personal observations). While this phenomenon is common knowledge among the transgendered community, it has no theoretical basis. This note proposes a simple mathematical model to explain the phenomenon.
I propose that the observer has two perceptual modes when deciding as to a person's genetic sex status. In the first mode, which I shall call the "naive" mode, the observer does not actively inspect the person for cues as to his/her genetic sex. Thus, features incongruous with the person's gender presentation are likely to be noticed only by accident. In the second mode, which I shall call the "inspection" mode, the observer has a pointed interest in determining whether the person is transgendered and will therefore scrutinize the person for gender incongruencies. In this perceptual mode, the observer's chances of determining the person's genetic sex depend both on the observer's assessment skills and on the subject's prevalence of gender-incongruous cues. While some observers will be better at assessing genetic sex than others, there is an overall probability of being "read" by a member of the population at large, based on the average observer's assessment skills. Let the "naive" mode probability of "passing" (not being read) for a single observer be N, and let the "inspection" mode probability be I.
For the subject to "pass", it is necessary both for her to pass on her own merits in naive mode (N) and to pass scrutiny from any attention her companions might attract, and the total probability of passing is the product of the probabilities of these two events. While the probability of passing in naive mode is simply Ns, (s referring to the subject), the probability of passing scrutiny drawn from one's companions is more complex. The probability of being read from this additional scrutiny is the probability of being read in inspection mode times the proportion of time her companions will be read. The probability of one of the i companions being read is 1 - N1N2N3...Ni. Thus, the probability of being read from this inspection mode attention is (1-Is)(1-N1N2N3...Ni). The total probability of passing is then
Ns[1-(1-Is)(1-N1N2N3...Ni)]. If all companions are equally passable, then this expression becomes N[1-(1-I)(1-Nci )], where Nc is the probability of passage of a companion in naive mode.
To illustrate this relationship, assume that the subject has a naive mode passage probability of .99 and an inspection mode probability of .25, and her companions all have naive mode probabilities of .80. Figure 1 shows the probability of the subject's passing with one observer as a function of the number of companions she has, i.
Figure 1.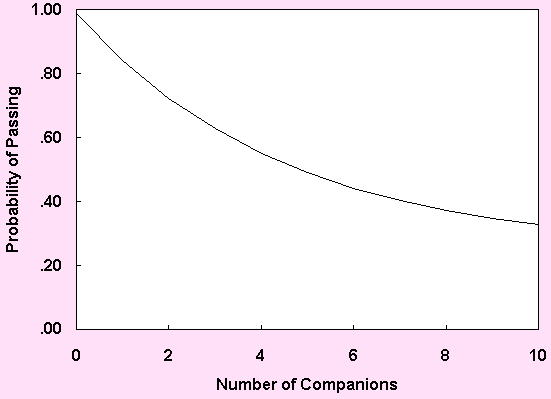 In this function, the Y intercept is Ns, at which point one's companions cannot draw attention. The asymptote value is Is, because the probability of an infinite number of companions passing is 0, so the observer necessarily operates in inspection mode. The implication of this function is that when one has few companions, the naive mode probabilities are the most important determinant of one's success in passing; however, when one has many companions, the inspection mode probability is far more important. The particular shape of this function depends on the N and I values, of course.
The above function gives the probability of passing with a single observer, but transgendered people in most situations encounter numerous people. The probability of passing completely with multiple observers is simply the above probability to the n power, where n is the number of observers. Figure 2 shows the above function with the same parameter values but for a variable number of observers.
Figure 2.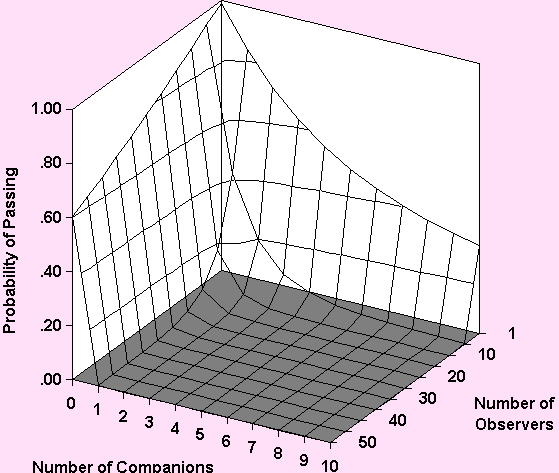 The implication of this example is that with the specified parameter values, one's chances of passing completely are very low when one is in the company of other transgendered people, particularly when there are numerous observers. Realistically, one is usually less concerned with passing completely than with being read infrequently. The expected number of "reads" is simply the product of the probability of being read by a single observer (1 minus the probability of passing) and the number of observers. Figure 3 shows this relationship.
Figure 3.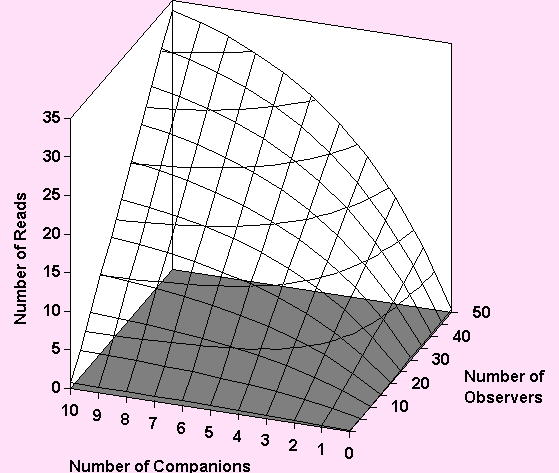 The simple mathematical model set forth in this paper provides a tool by which the transgendered person can assess his or her probability and frequency of being read, based on his or her own passability, that of his or her companions, and the number of observers that he or she will encounter. Although there are no empirical data available for assessing the validity of this model, the model is in general agreement with the "current wisdom" of the transgender community. With empirical verification, the model could be instrumental in gender counseling for establishing realistic expectations of public perceptions and reactions in a variety of social settings.

Four Pink Ribbons for Ken
by Kristen
I finally called Ken's Pacemont Beauty Salon and talked to Cindy about a makeover. They are thrilled that they have been Pink Listed and are quite excited about doing makeovers. Finally someone in Columbus could help me discover my beauty that lies beneath. I finally mustered the courage and visited Ken's on Tuesday, and spent an afternoon of fun. He is delightful and does wonderful work. I was thrilled when I looked into the mirror and saw how Ken was able to transform me into Kristen. Our session was quite private and I felt comfortable the entire time. I only wish I would have worn something prettier. I definitely give Ken four pink ribbons for the "Pink List". I hope others visit him, especially since there don't seem to be many others who offer this type of service.

Sarah's Shopping Basket
by Sarah
This is a new section of the Crystal Chronicle. Check here to get tips on sales and great bargains in the Columbus area. I haven't been shopping much lately, and this edition is almost to press, so I don't have much to pass along right now. For future editions, please keep your sisters in mind when you run across some incredible bargain or information about a great upcoming sale. Provided these things will still exist after everyone receives her newsletter, we would all like to hear about them. Just send in your tips, clippings, or whatever, and I'll compile them. CC-online is perhaps the best place to post them to me, since over a dozen of us will get your tips right away. Now for the ugly business of a disclaimer:
Sarah's Shopping Basket is a listing of shopping tips for the Columbus area. Neither the Crystal Club, the Crystal Chronicle, the editor, or the person offering the tip assumes responsibility for the validity of the information, the quality or suitability of the merchandise, the policies or business practices of the listed store, or the manner in which the shopper is treated in the store. If you have a bad experience with any of the businesses listed, please inform me, so that I can exclude it from further Shopping Basket tips as appropriate.
Adolfo, at the Jeffersonville Outlet Mall, Jeffersonville, OH, is having a great "take a friend" sale; buy one at regular price and get the second of equal or lesser value for 1˘. They have some nice wool knit skirts (mostly in S and XL), 2 for around $30, and some incredibly cute wool pinstripe skirt-suits in navy or black with removable white lapels at 2 for only $80. Now Carey and I have matching suits! (3/12/97)
Laura Ashley, at the Ohio Factory Outlet stores, Jeffersonville, OH, has some excellent deals on silk. They have matching full-length "swing-cut" skirts (very flattering) and matching blouses in sizes 12 and below for around $13 and $15, respectively (originally around $100). They come in a variety of colors, but only the lilac and pastel green can be matched for color. They also have a pretty gold and a deep ruby (which I bought). For $30, you can buy a similar cut of Spring dress in lilac. (3/12/97)
The Discovery Shoppe (1198 Kenny Center, 457-4227) is a place I love to shop. It is the American Cancer Society's upscale resale shop, where all their nicer donations go. You can find some very pretty things there for not a lot of money, and the volunteers there are very friendly.
Stein Mart is another great place to shop. They are fairly low priced, yet their clothing is very nice. You will especially appreciate their merchandise if you are a natural fiber nut like I am. You'll find lots of silks, wools, cottons, and linens, in styles ranging from casual to formal. They have an entire department devoted to classic styles, by the way. It's definitely the place to shop if you want to look "smart" and well groomed.

Sarah's Quick Tips
by Sarah

What to do about nicks when you shave? One approach is to douse your face in cold water to slow down the bleeding and just let the blood clot thoroughly before washing away the surface clots. A more sophisticated approach is to use a styptic pencil or cream, which is intended for that purpose. Clearly the best idea I've heard though is to use Visine eyedrops, which use tetrahydrozaline, a vasoconstrictor, to reduce blood flow and "get the red out."

OK, so the bleeding has stopped where you took a small chunk out of your skin, but the wound is still oozing, and of course you can't get your foundation to stick there. Never fear! When life hands you a lemon, make lemonade. Just get out your eyeliner or brow pencil, and make the nick into beauty mark. Problem solved!

To make your teeth look brighter, wear a darker shade of lipstick.

To make your nails longer and stronger, make it a habit to "ping" them frequently and somewhat forcefully on a hard surface. The vibrations increase bloodflow to the nail beds and promote more rapid growth.

Suave Balancing Facial Cleansing Gel is great for removing makeup gently, and it smells good too. For some reason it's hard to find, but I bought some recently at Big Bear.

First Flight
by Sally Oppenheimer
What was the worst experience you ever had when en femme? Gender role transitioning can have its difficulties, but even the difficulties can be a learning experience. For those of you who don't know me, I am a transitioning MtF TS living about 50% full time and am still with my wife who comes from an upper middle class Mexican family.
I recently made a trip westward to meet with one client in Salt Lake City and a number of them in the San Francisco bay area. Being the efficient (make that cheap!) person that I am, I also incorporated a short visit to a long-time prospect near Monterey, a investor meeting in San Jose, and a board of directors meeting in Salt Lake. I also wanted to meet in person an "online" friend from Santa Clara (next town North from San Jose for the non-California crowd) and visit a very dear friend who completed SRS this past January.
I got up bright and early Friday morning, the day of my flight, looked outside, and saw fog, but I called the airport and was assured that flights were on schedule. I packed for an overnight, with executive business attire for "both" of me. After driving our son to his school and hugging him farewell, I went to the VIP club at the airport, male mode, where I received my favored seat selections. I boarded the plane which pushed off on time, headed for the runway, stopped in line, and waited... and waited... and waited. It seems that the fog came back, just long enough to delay the flight to San Jose about 30 minutes. Oh, well, we frequent travelers know that, regardless the amount of wealth expended to make things more comfortable, the root word for "travel" is shared by "travail".
After we took off, the trip was wonderful. It was clear, and the snow capped Rocky Mountains and the High Sierras were lovely. When I arrived in Sunny California, my business prospect met me at the gate offered to drive me to my late afternoon appointment. Who am I to argue? Besides, it would have been fruitless. Go with the flow.
After some intense negotiations with my prospect, I had a lovely fresh seafood meal with him and his wife, and he drove me to my appointment with my investor. When I was finished discussing business with the investor, he drove me to the airport. We got stuck in traffic, but I still managed to reach the airport with just enough time to clear security and get on the plane for Salt Lake City. The x-ray technician had a good time studying the contents of my garment bag but passed it and my briefcase.
The plane was packed. I tried in vain to call my cyberfriend and my other friend in Salt Lake City from the airphone. I arrived in my unexpected boy mode, and my friend and I went to the hotel, where I could register and change for dinner. As I could not change and my wig was in curlers, we decided that she would register for me.
We ate a lovely supper at a bakery-Middle Eastern coffee shop and had a good visit. The waiter was a hunk and was very solicitous. Finally, ten women entered and sat at a large table near us. During the conversation, we discussed the various ways women communicate, and how they differ in language and nationality. For example North American, English speaking women tend to sing-song the modulation of their voices accompanied by, what we would call "feminine" gestures, whereas, Latin American, Spanish speakers use a monotone accompanied by more gesturing, upper class women in China and in Japan, speak with squeaky voices, and use very subdued body language. At that moment, I noticed that the women in the table next to ours were speaking in Spanish, so I told my friend how it sounds and looks as an example of this.
I overheard part of the discussion and looked, discretely I hope. I was stunned. Among the group were two of my wife's cousins and an aunt. They were having an animated chat, oblivious to us, perfect examples of their heritage. I am amazed at just how small the world has become. We finished our meal, we looked at the impressionist reproductions on the wall, and I purchased some sweet breads for the following morning's meeting.
The night was uneventful, as was the following morning, except that I, Sally, was called by a difficult client who wanted to know how to reach my twin. I quickly explained that my "brother" was in a board of director's meeting and that I would tell him to call back before I and my children joined him for our apres ski lunch. He seemed satisfied, and I went to my directors meeting, planning to call the client back afterwards.
Following a productive meeting and a very pleasant ride to the airport, I was met with a "no-carry-on" policy for baggage. I checked my garment bag, showing the airline agent my boy id and p-shrink letter. I kept the briefcase and my handbag and passed through a very crowded, overworked and suspicious security. After a lovely late lunch of Cobb salad and vegetable soup at the airport restaurant and contemplating the snow covered mountains, I went down the corridor and waited for my plane. And waited... and waited.
There is no VIP airline club at Salt Lake City, but I was able to find a power outlet for my computer and catch up on some work. The setting was grand, but the terminal traffic was getting very heavy with healthy young people finishing up or entering their ski vacation. No one gave me much of a look, except a young preschool girl who wondered if I was a "mommie" and why I was "playing with a daddy-toy". We had a nice little chat--her mother, looking a bit harried, apologized for disturbing me.
When our plane finally arrived and we boarded, I began to wonder how I would get home that evening. But the captain assured us that all DFW connections would be met and we had nice clear weather flight to Dallas. My seat companion was pleasant and was looking forward to seeing her fiancé when she got home to New Orleans.
The plane landed, on time, without incident and taxied over toward the main terminal. Then it stopped, and we waited. It seems that there was another plane in our gate, but it would be out "momentarily". We would be at the gate in "five minutes". As my connection was only ten gates from my arrival, I gave it no thought. "Five minutes" in airlines really means fifteen, but still plenty of time. However, this "five minutes" stretched to an hour. In a crowded airplane. On the ground. With everyone making connections. My makeup needed fixing and my hair began to get that ratty look. We wait some more.
Finally, we moved -- slowly. We arrive at the gate just as my connection flight was scheduled to leave. At least I didn't have to lug my garment bag along with my other stuff. I was informed that my connection to home was boarding but that I might be able to make it -- I might not, too, depending on the whim of the crew.
I rushed to the connecting gate and boarded a nearly empty plane. Instead of leaving "on time" we waited for more passengers. Finally, the plane was full and we left. It reminded me of the Eastern Shuttle for New York. When the plane leaves when it fills up. The air was rough and the flight attendant nearly dropped the tray with a coffee pot onto me and my seatmates. Finally, we got back to Austin and went to baggage claim.
I rented a SmartKart and stood in the crowd around the American Air Lines carousal. The bags came out. I waited. The crowds thinned. I waited. The crowd became the three Salt Lake connections. Did they lose my bag? Would I have to go through the "I am a transsexual" routine with another person that day? I walked over to the lost baggage office where I sat and waited my turn. Some more people came in. Another woman joined me and we commiserated about the unfairness of baggage checking. My turn came, and the polite young woman asked for a picture ID to prove that I was the "man" whose name was associated with my baggage claim tag. I show it to her. She was very nice and asked some questions about the contents--shoes, suit, sweaters. Somehow I managed to keep my composure--to a degree--and only slip a little on my voice discipline. She apologized for her employer's negligence and gave me a printed acknowledgment.
I finally left the airport for home at 11:30, having been expected there by 10:00. On the way, some goon was cutting in and out of traffic on the freeway. About three cars ahead of me, he sideswiped a Nissan which crossed all three lanes of traffic, bounced across again and came to a rest on the right shoulder. It looked like there were injuries involved. My male persona kicked in. I pulled over, called 911, and reported the accident to both the police and EMS. I asked a passing woman the seriousness of the injuries.
Only as I left the scene and as EMS was arriving, I realize that I was using male-speak. Oh, well, I did help the accident victim as much as I could, and who really cares if I passed just then?

Copyright © 1997 by the Crystal Club, Sarah, editor. All rights reserved. Articles and information contained in The Crystal Chronicle may be reprinted by other non-profit organizations without advanced permission, provided the author and source is cited and a copy of the issue containing the reprinted material is sent to the Crystal Club within two months of publication. The opinions or statements contained in the Crystal Chronicle are those of the authors' and do not necessarily reflect the views of the editor or the Crystal Club. Furthermore, neither the Crystal Club nor the Crystal Chronicle editor assume responsibility for any consequences resulting either directly or indirectly either from advice or from any other materials contained in this newsletter. Contributions of articles are encouraged but may be altered with the author's intent retained or may be rejected, whether solicited or not. Absolutely no sexually explicit material will be accepted or printed. Contributions may be emailed directly to the editor (for Crystal Club News Letter) or sent to the postal address below. The Crystal Club is a non-profit support group for transvestites, crossdressers, transsexuals, female impersonators, and other transgendered individuals. Spouses and significant others are welcome and are encouraged to participate. Both male-to-female and female-to-male individuals are welcome. Also, members from related organizations, helpful professionals, and approved guests are welcome when cleared through a Crystal Club elected officer. Club policies, meeting dates, locations, and fees are available on request through our address below. We will exchange newsletters with any other similar group. Send all correspondence to: The Crystal Club, P.O. Box 287, Reynoldsburg, Ohio 43068-0287. (614) 231-1368.