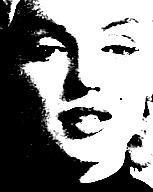 Current Officers

President - Stephanie
Vice President - Kelly
Treasurer - Dianna Mills
Secretary - Diana Brit
Newsletter Editor - Kelly
Assistants - Jannie & Trisha
Meeting Coordinator - Latoya
Screening Officers - Trisha & Judy
Web Mistress - Mary Ann
Assistants - Jannie & Anne
Librarian - Tina

Index to May '99 Issue

Anniversary Party a Success
by Jannie Abeille
Well, it may not have had the hype of the latest Star Wars movie, but last month's anniversary party was a total blast! With attendance at least double of any meeting I've ever been to, there were quite a few faces which I didn't recognize, and many more I hadn't seen in a long time.
There were many highlights to the evening. The decorations and music were great. The food was great. The entertainment was great. The comments made by the panel of presidents were great. There were a lot of reflections on where we started, and how far we have come. Cathy described the pride and gratitude we all should feel for being transgendered. Mary Ann was presented with a special gift, a crystal vase, as one of the founders of the club, and touched us all as she specifically thanked everyone involved in the club and her life. At the close of the party, Kelly sang! Her song and initial comments appear on the following page.
Thanks to everyone who helped make this party a wonderful success!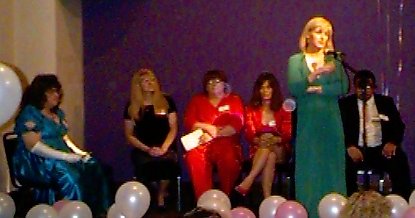 Kelly, Rochelle, Cathy, Adrianne, Stephanie and Oliver on stage at the anniversary party.

Thanks for the Memories!
by Kelly Davidson
While there have been six presidents in the Crystal Club history, we have been fortunate to have had countless officers and volunteers doing the unknown but important jobs that kept this club going. Jobs like the newsletter editor, treasurer, secretary, meeting coordinator, screening officer, librarian or just volunteer to help out in any small way. You ladies have been the backbone of the Crystal Club.
To all of you who have helped out one way or another...there are no flowers or crystal vases for you to show our appreciation...But what I do next...I dedicate to you, the one's who kept the club going and build all these precious memories. And Remember, it is the thought that counts.
Thanks...for the memories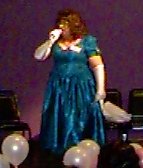 The picnics in the sun,
Christmas in the park,
All those precious moments,
that can not be forgot
How lovely...it's all been
Yes, Thanks for the memories,
To all the presidents, Mary Ann and Steph.
Cathy, Sonya, Oliva...Rochelle and Adrianne.
How lovely...it's all been
Many of times we smiled.
And many more times did we laugh.
And though we had a few rough times along the way,
We worked them out fast, then had a blast
Yes, thanks for the memories,
The articles you sent,
To share with all of us.
The friendships we developed that it hurts to be apart,
How lovely...it's all been
And to all the officers,
Who served their time so well,
Your efforts are appreciated,
We thank all of so much.
Yes, thanks for the memories,
We'll so glad that you came,
To share this time with us,
We hope you will be back again
We miss when you not.
And we thank you....oh, so much

If You Want a Place in the Sun
You've Got to Put Up With a Few Blisters
by Dawn Josephine Wilson
Not to mention fatigue. But the ultimate question: Is it worth it? In this case, it was well worth it. Anne Casebeer and I drove 6 hours to Youngstown State University. Why? To meet Coretta Scott King and give a presentation on Transgenders at a diversity conference.
Although I will go into greater detail later, after I wake up. Needless to say, the trip went off without a hitch. I was very privileged to represent the Transgendered Community in what I hope was a positive light to YSU and Mrs. King (yes, Trans was mention in her address). I was able to present her with a birthday card on behalf of all of us and speak to her for a few minutes on transgendered issues. She is aware of what is going on in the GLBT community, especially with HRC. As a representative of this community, I was able to make some contacts with other school officials who would like us to come back. Both Anne and I received personal invites to speak at two other universities as a result of this conference. I will turn over these contacts to the Ohio Folks for some follow-up.
They truly want the help of the GLBT COMMUNITY as a whole, at YSU. They would like to start a student GLBT group. They want to reach out to the trans community. They want continued education on our issues. We need to respond. Judging from the preliminary evaluation sheets we turned in (10 of 35 ) and what we heard, things went excellent. It is said, "The reputation of a thousand years may be determined by the conduct of one hour." If that is the case, I hope that my conduct led to a sterling reputation for the Transgender community as a whole.
Back to May 99 Index

GLAD FILES DISCRIMINATION SUIT AGAINST BANK
ALLEGING ILLEGAL SEX STEREOTYPING
[Boston, MA: 4 May 99] The Gay & Lesbian Advocates & Defenders (GLAD) has filed a suit against Park West Bank and Trust Co. of Holyoke, MA, on behalf of Lucas Rosa who was denied a loan application based on her expression of gender.
When Rosa appeared at the bank dressed as a woman and asked for a loan application, the bank officer asked for three pieces of identification. Rosa, who identifies as transgendered, presented three photo IDs. In one, she looked like a man; in another, a woman; in the other, of indeterminate gender. The loan officer refused to give Rosa an application, saying that, until Rosa went home and changed into men's clothing, she would not provide an application.
Said GLAD attorney Jennifer Levi, "The U.S. Supreme Court said (in Hopkins v. Price Waterhouse, 1989) that sex stereotyping is impermissible sex discrimination. Lots of people do not fit society's rigid definition of what counts as male and female. Refusing to provide service or extend credit to a person who was born male but appears in female clothing and often passes for a woman is impermissible sex stereotyping. Both state and federal law forbid such practices."
Back to May 99 Index

Looking Back
with Kelly Davidson
Old Girlfriend
Her name was Karen. She was a slightly overweight, average looking blonde-hair girl I met one day in high school. Karen didn't have a lot of common sense (which is maybe why she fell in love with me <G>) but she did have a heart of gold, which is so rare in this world today. And one more important item, she had clothes that were big enough for me to wear.
We dated briefly, for about six months, but that aspect of our relationship didn't work out. Karen was more concerned with becoming engaged before she turned 18 (less she would become an old maid in her family's eyes) than finding real love. I, on the other hand, had too much baggage to deal with at that time to think about taking on a family. So, while we were hopelessly going in different directions we still managed to have a good time. And during that period I got to try on her clothes. Here is how it started.
We were having a date at her house, a candle-light dinner, while her parents were gone for a few hours. By now, we had been dating for more than a month and during that time I had the opportunity to see Karen wearing many of her pretty dresses on our dates. This particular night she was wearing a white, silky, V-neck dress with a pleaded skirt and gold lace. She looked so beautiful that night.
Anyway, determined to try on one of her dresses without letting her know I was really a crossdresser, I came up with a plan. After dinner I suggested we play a game of cards (blackjack) and then slowly laid out the bet to her. If I won, she would have to dressed up like a man by wearing some of her fathers clothes. But if she won, I would let her pick out some of her things and dress up like a girl. She giggled in agreement and we started playing.
Do you know the old expression, "Unlucky at cards, lucky at love?" Well, it was totally the opposite for me that night. No matter what I did, I couldn't lose! If I had 16 showing, and drew a card, it would be a 5, giving me 21 (and beating her 20). If she had 12 showing, and I gave her a card, it would always be a face or ten card (22). Twice I took a hit with 19 showing and drew a 2 card.
"UNBELIEVABLE" I said to myself. The one time I really want to lose is also the same time I become the luckiest card player in the world. The only way I could lose was if I made it obvious, like drawing another card when I already had 21. There was nothing more frustrating than trying to lose game after game only to find out your cards had found yet another way to win. My plan was falling apart before my eyes and I couldn't do anything about it.
Well, after I cleaned out Karen in Black Jack, I told her I would give her a chance to redeem herself by playing Poker. This time I was able to lose despite starting out with two pair or better for each hand- and I dealt. Eventually, and it took a lot of effort on my part, Karen did win. Somehow I was able to hide my excitement as she grabbed my hand and with a small giggle, led me upstairs to her bedroom.
The first thing she asked was if I wanted to wear one of her bra's. I declined for the following reason; I wasn't sure where this relationship was going and I didn't want to ruin it by letting her think I actually enjoyed dressing up as a girl. Thinking back now I wish I had said yes but keep in mind that not only was I a closet crossdresser, I was a paranoid one as well.
Karen took out a pink slip and a pair of pantyhose from her drawer and laid them on the bed. Next, she went to her closet looking for a dress for me to wear. She asked if I had a preference, but seeing all those dresses hanging there in the closet calling out my name left me speechless.
Finally, I told her to pick out something she would like to so me in. Karen flashed me a smile and turned to her clothes again. She searched through them for a moment and pulled out a short, red flowered dress with a white lace collar. I had seen Karen wear this dress once before and she had looked so pretty in it. Instantly I began to picture how I would look once I had it on.
"Here, this should look good on you." she said while smiling warmly at me. "And I think these sandals will fit your feet too. That should be all you need."
I asked if she or her mom had a wig I could wear but the answer was "No". My heart sank a little, I didn't want to appear in front of her as a man wearing a dress. So after she left the room, I searched her closet a little bit more and found a big, frilly hat to wear. While it didn't go very well with the outfit I was wearing, at least it made me appear more female.
I put on the pantyhose, slip and dress and looked at myself in her mirror. I didn't look too bad although I certainly would have looked better if I had put on some makeup and jewelry (which I didn't dare do less Karen would think I was enjoying this too much).
About that time Karen knocked on the door and asked if I was ready. Like my first time with Mrs. Smith, the thought of someone walking into the room with me standing there dressed scared me. So like before, I got into the closet, closed the door and turned off the light. Then I told her I was ready. First Karen became puzzled when she didn't see me. After asking where I was, I told her I was in the closet (wasn't that the truth) and she had better prepare herself for what she was about to see. Karen just chuckled as she flung open up the closet door and turned on the light. Then she started laughing (not a mean laugh).
"Oh MY GOSH!" she said giggling. "You look so cute in that outfit. I think it was meant for you."
"Thanks." I said in a nervous voice. While I pretended not to be enjoying the moment, inside I wason cloud nine. Then I noticed she was dressed differently also. While I had been changing into her clothes, she had been changing into some of her fathers stuff. Instead of being in a white dress, she was wearing a flannel shirt, a pair of men's pants and shoes and a man's hat in which all her long, blonde hair was tucked into.
"Let's go downstairs for a bit." she said, giggling with excitement. "Careful on the steps honey. I don't want you to fall in your new outfit and get it messy"
She started pulling me out the door and away from where my male clothes laid. I began to panic at thought of leaving them behind and visions of a trap danced in my head. Looking back on it now, I realize how silly I was for thinking that way. But like I said, I was rather paranoid because of other events that had happened in my life. Anyway, with a bit of pulling on Karen's part, I went downstairs to the living room.
"Turn around." She told me. I did as I was told and she covered her mouth. "It's snowing down south." she giggled. I looked at her dumbfounded, as if she was talking in another language (which she was). "Your slip silly. It's showing." I looked down and noticed it was about an inch below the dress I was wearing. Karen laughed some more at my efforts to pull the slip up while trying to keep my skirt down.
After a few more turns we did a little role playing. I pretended to be her girlfriend and asked if I could get her something to drink. She told me sure and plopped down on the couch. While I was fixing her a cold Pepsi she commented on how nice and cleaned I kept the house. I thanked her and in a seductive manner, walked back into the room and handed her the glass. Karen giggled at my efforts and then did something that completely shocked me.
First, Karen took her drink and placed it down on the coffee table. Then she grabbed my hand and with a quick twist, swung me down into her lap. Now firmly in her arms with no where to go, Karen started kissing me intensely. My teenage system went into overload. Sadly, the phone rang shortly after our making out session began, interrupting what was sure to have been a fine moment. It was her parents calling to let us know they were heading home. I gave Karen one more long kiss then went back upstairs to change.
A few weeks later I made up the excuse that I needed her help in dressing me up as girl for a Halloween party at work. That too was another experience lodged firmly in my mind. Even now a smile comes to my face when I think about it.
My relationship with Karen lasted a few more months but then fizzled. I still saw her in school each day and we did have a good friendship but I never mentioned wearing her clothes during that time. Shortly before we graduated, she got into trouble with a married man and was forced to move out of her parents home. During that time I was there to help her adjust and cope with what was happening. Many of Karen's friends deserted her and I knew how painful that was for her. But I stuck by her side through it because I cared.
Shortly after her problems began, she got her first apartment and it was then I told her about my crossdressing desires. At that point our relationship entered into yet another phase (and a fun one for me). Wanting to return my friendship (and hoping it would bring us closer) she offered to let me try on her clothes anytime I wanted. I used to go over to her apartment 3-4 times a week just to get dressed up for a few hours. Many times she would help me get ready and she even gave me a key so I could get in and dress even when she wasn't there. I learned so much from her during that time.
It's a shame things didn't work out for us. In many ways she was a crossdresser's dream wife. But the reality was, we were two totally different people and then her motive for allowing me to wear her clothes were less than true. I know this based on certain events and comments that Karen made. She was even more interest now in getting married than when I first met her and she was willing to do anything to make this happened. However, I also think she did care a great deal for me, as I did her.
In time, Karen did find someone to marry her, but it lasted less than three months. She had only known this guy for only four weeks and he turned out to be a real mental case (very abusive) after they were married. When it was over I was there to help her pick up the pieces and move on.
Then one day it happened. Karen moved out of her old apartment and didn't give me her new address. In the seven years I had known Karen she had moved four other times and she had always given me her new address. Not this time.
I guess after sharing her clothes with me for almost six years she had had enough. Or maybe she just wanted to make a clean start without me being around to confuse her. I really don't know the answer. But wherever Karen is today, I hope she is happy. She is unforgettable in so many ways!
Back to May 99 Index

Sex-Change Singer Defies Protests
According to a May 12, 1999 Australian Associated Press story with the above headline, Dana International, the Israeli singer who won last year's Eurovision song contest, made a recording in Jerusalem's Old City, despite threats from Ultra-Orthodox Jews.
International, who underwent SRS five years ago, recorded a song to be used as an opener for this year's Eurovision contest in Jerusalem on May 19. She used lyrics from the Bible for the song.
The Ultra-Orthodox had threatened to demonstrate on the streets in order to stop the recording session, but the demonstrators didn't show up. Instead, according to the story, "numerous police deployed to protect the singer were instead kept busy holding off the crowds of journalists and onlookers."
According to the story, International opened her performance with Stevie Wonder's song, "Free." She then performed her own composition, "an adaptation of a religious song that also celebrates freedom."
"I am giving the world a message of freedom from Jerusalem, the city of freedom," International said, "on the threshold of the third millennium."
Back to May 99 Index

It's Quiet Tonight
By Angelica R. Bolin
All is quiet tonight; the traffic on the web is slow, at least in my little corner of the web. Am I a guard? No, just a watcher, a gatherer of information. I have been all my life, though just recently on the web. A quiet listener, I don't always remember the things I should. Like names, numbers, the color of your eyes, I will probably take a couple of visits with you to remember that your hair is blonde or brown. But I'll remember you, in other ways, how you carried yourself, how you spoke, and the kindness that came from your heart as you spoke. The concern that you have for others as you speak of them, the passion you spoke with of this event or that. I'll probably forget what it is that actually happened until you kindly remind me.
As I write this there is no one on the Internet that I know, except one person that I talked to earlier, Someone from the Czech Republic, who is probably asleep since he's been on for 12 plus hours, and it's 4 am there. I feel like the lone sentinel standing guard over the world. I'm not tired, I'm just tired, if you can understand that. I'm not ready for bed, but I'm tired of being alone. Loneliness is probably the true number one reason for suicide, because you can be lonely, anywhere. By yourself, late at night at work, at home with your family when no one cares or understands how you truly feel. In the middle of a sellout concert, at a sporting event, in the middle of a crowded mall or even at a restaurant with your friends. How about your support group? Do you feel left out sometimes?
I am 33, will be 34 soon, and when I look back on my life it depress me. The loneliness that I felt, the emptiness of not being able to share the real me with anyone, for fear of rejection. I remember when I was first able to put a name to the way I felt. I was in the library, about 13 or 14. The term actually came from health class, but there was no expanding upon it there, everyone in the class laughed at the thought of a boy wanting to be a girl. Everyone that is but me, the opposite was never brought up. I wrote the term down; transvestite is the term they used though later I found it to be wrong. In the library, my favorite place in the world, a place where I could be lonely and it didn't matter because I had the power here. I opened the large unabridged dictionary, and found a simple definition Transvestite- a person who derives pleasure, usually sexual in nature, by adorning the clothes of the opposite sex, most cases of this phenomena are male. Transsexual- a person who believes that they are born into the wrong body and desire to change their sex to that of the opposite gender, this phenomena occurs more often in males.
To be quite honest, I didn't have a big problem with it then, I enjoyed wearing my mother's clothes and as long as no one knew then it would be okay. I'm not gonna go into a crossdressing story, because I'm sure most of us have similar stories at that age, but I was setting the stage for rest of my life right here. Because even though at that age I didn't know I was a loner, I had very few friends, and no close friends that I told anything really important to. Loneliness was something to get used to. Who needed friends when I was happy in a book, or games. Studying for school, education was my friend, as my stepfather told me, "knowledge is power," which I found out later to only be partially true. Because true power is the power of love and forgiveness, knowledge is secondary. But that's for another time and I'm sure there are people that would disagree with me. That's okay because I'm not an expert, just experienced.
So throughout middle school, and high school instead of friendship's, and bonds with people, I created bonds with my books, and a fantasy world where I could be my own best friend. She didn't have a name for a long time, but I've come to find out that her/my name was Angie. I cruised through school, mostly bored, played sports because it made my parents happy. In the summer before my Junior year, I decided I had enough of school and people, so I made arrangements to finish high school a year early. If I was alone before, then I lived a desolate life my combo Senior/Junior year. Taking classes and not even knowing who was around me. I don't think that I met anyone really new that year.
I seem to be rambling on here, don't I? That happens some times, you catch yourself and you go on. Okay, so for a childhood it was pretty much substandard. I chose not to have friends, and relies on books and my imagination to keep entertained. I didn't have any real use for people. Even with those I thought I was close to, I didn't feel comfortable talking about "it". At 17, I joined the Navy, accepted into the Nuclear power program, studying electronics. Man oh man, if I knew then what I knew now, I'd be running a power plant somewhere under the deep blue sea, 3 years to go and I'd have my retirement. Oh well, you live, you learn, you go on.
No friends again. Why have them? Nothing but trouble anyway. I was eventually released from the Navy, for my inability to handle my "crossdressing." That created other problems, so at 20 I was out of the Navy. Once again, live, learn and go on. I then started my fantastic voyage into retail that lasted until last year. Twelve years of grocery stores, quickie marts and a roller skating rink. Don't get me wrong, I enjoyed the jobs, meeting new people and getting to know what people liked.
But with all the people I met, I was still lonely. A prisoner, in a prison of my own making. At 12/14 years of age, you don't say to yourself, "Let's see. If I hide my feelings, don't make a lot of friends, and never tell anyone that I feel like a girl (that's not acceptable, don't you know), I'll build some walls that I may never tear down. I'll live in fear of being found out for the rest of my life, afraid to reach out and declare that I'm not abnormal and ask for love for who I am." How could I know that at 12 that those decisions I made would guide my life even today? Those decisions were making me scared to say to someone, "I'm TS." Not that society helped any, but you can't blame everything on society. At some point you must take some of the blame for your own life.
After all who made all those choices to hide, to experiment, to purge, to try to become one with the other entity that shares your body, as whatever you classify yourself, you made those choices, accept that. Live, Learn, and go on. So here I am again, night watchman (er, Woman). Silently watching as people come and go through my life. Only now I know that decisions that I make now will effect my life at age 60, should I be blessed to live that long. And it's my choice to tear down walls that should have never been built. To live a full life in harmony with the person I've always been, Angie. Be nice to her, she's a lovely person on the inside, very loving and caring, and quite understanding of where you might be coming from. She may be quiet but she understands the pain of loneliness, and while she heals, she want's to help you to heal.
It's a quiet night out there tonight. If you need someone to talk to, don't be afraid to reach out. I'll take your hand, and listen as you tell me your story all the while we tear down those walls you built so long ago.
Love & Joy - Angie
Back to May 99 Index

I, My Sister - Part V
Jennifer's Beginnings.
by Kelly Davidson
This story is based on the story called, "I, my sister" and was written by Diana Christy (07/97). Thisstory takes place before Diana's does, however. It is recommended that you read her story first to make sense out of this story.
*******************************************

Chapter 5 Crossing the "T"s, dotting the "I"s
Sarah was pouring through the thick books on her desk. The hardest part of the process was finding a word, one word, that had never been spoken before and would never be heard in public. It sounded so easy and yet it wasn't. The problem was, you never knew when the subject (that is how she thought of Al Parker now) was going to run into someone from a foreign country where in English the word meant nothing but in their language it did. She was already on her third word, the first two had failed to be unique. One had been a medical term in Russia and the other was a common name for a tool in Spanish. The odds against hearing such a word were great but if it happen, the results could be disastrous.
Her computer was searching the CD's (there were 19 of them) containing numerous words from around the world. It checked to see if the word she typed in existed or sounded like any of the other words the CD's had on file. But even they didn't contain all the words (yet) and she still had to look in real books to be sure.
The computer beep and displayed, "NO MATCHING WORDS FOUND". Sarah also hadn't found the word listed in any of the books she had check. So, this was the word she could used. "Ekala!"
Next Sarah looked at the profile sheets from several donors she had received from around the country. All of them were young females between the ages of 18 and 25. She looked at each one carefully and picked out what she thought were the best two. One was a 23 year old named Cindy Baker. From the report she had beautiful blonde hair and a body to match. She was also intelligent and carried herself well.
The other was an 18 year old named Jennifer Anderson. She was a cheerleader and an "A" student in high school The person taking the report had given her a top score of five in several categories including looks, poise and mannerism. Sarah thought about it for a moment and put Cindy Baker's profile back in the pile. "Sorry Cindy, I have to go with the younger women this time." Now she had to make one more call before she could go to bed. How late was it? The clock showed it was almost 3 am. She looked up the number and dialed.
"Sam, this is Sarah Jensen. I have a job for you. I need you to find out what is happening with a Jennifer Lynnette Anderson." Sarah gave him all the information he needed. "I also need you to find me anew female ID around the same age zone. And Sam, I need you to keep this to yourself, understand? Yes, I know that will double the price, I'll pay it. Okay, thanks Sam. You can fax me the information when you get it. Night."
Sarah hung up the phone and stretched. It had been a busy day, but tomorrow, not today, was going to be an even busier one. Still, she didn't feel tired despite being on the go for over 19 hours now. The excitement of starting a new experiment had kept her going half the night. Now came the hardest part for her, waiting for the information to come in from Sam.
Sarah peeked behind the curtain at the man sound asleep in the room. Gerald had found a pair of sweat pants and T-shirt for him to wear, along with a bar of soap. He made sure the man had taken a shower before being locked back up for the night. How strange that fate had brought this stranger to her. In less than 48 hours he would go from being a useless vagrant to a great asset for her use. She would learn so much from him, more than what she had been able to learn in the past year. Hopefully, he would prove what Sarah already thought to be true about her new drug. She took one more look at him then dropped the curtain and headed upstairs to bed.
*****************************************

Chapter 6 Houston, We are Go for Launch!
It had taken a better part of the morning but Sam had found and faxed the information to her. It was better than could be expected. Jennifer Anderson had been killed in a traffic accident a few months ago. Her older brother and sister had been killed years earlier and her parents were retired and living in Florida. They apparently didn't have any close relatives (there were none listed on the report Jennifer had filled out when she agree to donate her sample) so there was almost no chance on running into anyone out here who knew her. Sam was asking if he should reactivate her Social Security number or provide Sarah with another ID of someone else who had been born around the same time?
Sarah thought about it for a moment. This was an idea situation to use the real ID of the donor from which the sample had been taken. In many ways, she was going to bring Jennifer Lynnette Anderson back to life. Too bad she couldn't allow Jennifer's parents to see her again, Sarah was sure they were devastated. Losing a child had to be hell, but losing three of them at different times, how could they go on?
Well, she couldn't let them know. In fact, no one but Gerald, herself and this vagrant could ever really know the truth. That was why she needed a proper ID for this subject, in case the people she worked for decided to do a little background check themselves. This subject would need an ID, credit cards and a checking account. In short, she needed to be just like everyone else in the world.
Sarah was amazed on how everything was coming together. She had needed a maid and a subject to test her drug on and this vagrant shows up who no one would miss. Then she needed an ID for him and the real donors information was available. It was like some higher being was pulling all the strings for her. Now that all the pieces where in place, they were ready to begin. She would start the process after the subject had his supper.
*******************************************
Tom was getting a little concerned. It had been over three days since he had heard from Al and that wasn't like him. He had already left two phone messages on his answering machine asking him to call. Well, he was really going to give it to him the next time he saw him. Taking off and not telling anyone where you were going was irresponsible and stupid. Tom stopped thinking about it and turned back to a case he was working on.
*******************************************
In his locked room, Al had time to think about everything that had happen in the past 24 hours. He should have been home by now, kissing Sally and getting ready for Christmas. Instead he was prisoner with no idea what was really going on. He wondered if Dr. Jensen would keep her word.
The door opened and Gerald walked in carrying a tray of food. "Better eat it all." he told Al. "That's all you are going to get for tonight". He laid the tray on the desk and closed the door.
They had fed him breakfast, but not lunch, so Al was hungry. He dug into the food, enjoying every mouthful. He was sure the big ape was watching him on the other side of this mirror. Well, let him enjoy himself. In another day he would be out of this prison and on his way back home.
Home. He started to dream about how nice it would be to get home and sleep in his own bed. All of a sudden, Al felt very, very tired. Strange, he never went to bed this early and yet...he couldn't keep his eyes open. He moved towards the bed and fell onto it. In less then a minute he was sound asleep.
Back to May 99 Index

The Advocate
excerpted from GAIN
The Advocate has several articles this week [the May 25 issue] on the Transgender Community. On their web site at www.advocate.com, there is an opinion poll regarding transgender inclusion in the gay/lesbian equality movement. Many of the articles are repeated on the web site, as well.
Take a moment and register your vote TODAY -- when checked earlier, it was 57% yes, 35% no, 8% undecided. There is a place for brief comments as well. If you wait a moment after you click on the Submit Poll button, a screen will come up with current tabulations and other people's comments.
Back to May 99 Index

QUOTE UNQUOTE
by Rex Wockner
"I say to you, walk a mile in my pumps."
--Gay Catholic San Francisco Board of Supervisors President Tom Ammiano, March 29, as the Board voted to ignore loud Catholic objections and let the Sisters of Perpetual Indulgence close Castro Street on Easter Sunday to celebrate their 20th anniversary.

Upcoming Events
May 22: Crystal Club regular meeting
May 23-25: GenderPAC's Annual Lobby Days, Washington, DC (see www.gpac.org/ld99)
June 11: Crystal Club business meeting
The Crystal Chronicle is the official newsletter of the Crystal Club. The Chronicle is published and mailed a week prior to the regularly scheduled meeting. Complementary copies of the Chronicle may be obtained by contacting a club officer or any club member. News items for the Chronicle should be mailed to Kelly Davidson before the end of each month. Her e-mail address is: HZ150@cleveland.freenet.edu Please specify in the subject field that this is an article for the newsletter. Attachments can be sent to: Kelly@gender.org
Copyright (C) 1999 by the Crystal Club, Kelly Davidson, Editor. All rights reserved. Articles and information contained in The Crystal Chronicle may be reprinted by other non-profit organizations without advanced permission, provided the author and source is cited and a copy of the issue containing the reprinted material is sent to the Crystal Club within two months of publication. The opinions or statements contained in the Crystal Chronicle are those of the authors' and do not necessarily reflect the views of the editor or the Crystal Club. Furthermore, neither the Crystal Club nor the Crystal Chronicle editor assume responsibility for any consequences resulting either directly or indirectly either from advice or from any of the material contained in this newsletter. Contributions of articles are encouraged but may be altered with the author's intent retained or may be rejected, whether solicited or not. Absolutely no sexually explicit material will be accepted or printed. Contributions may be electronically mailed directly to the editor at ccnl@stargate.com, or sent to the postal address above.